The new 2023 BMW M2 is one of the finest sports coupes ever produced by man. The formula is just right; Rear-wheel drive, in-line V6 with insane power and torque, your choice of a paddle-shifted automatic or stick-shift manual transmission, perfect chassis, big brakes, and performance tires.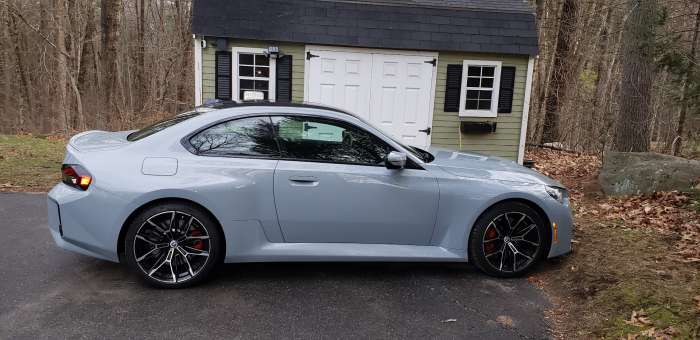 As you can see, the BMW M2 checks off all the right boxes for either a very competitive track-day racecar or a grand touring vehicle. The thing is, if you opt for some of the packages the M2 can come with, you may well turn your M2 into a vehicle that won't work very well as a grand-touring vehicle.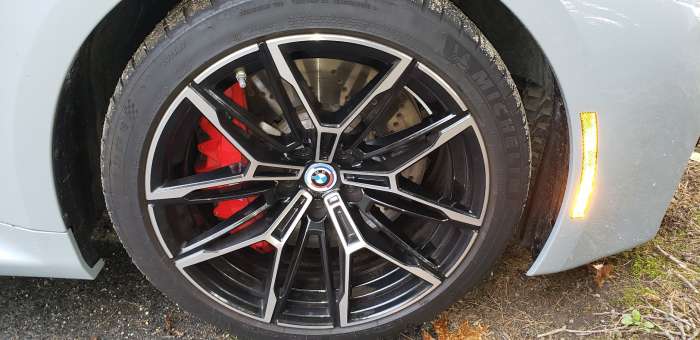 Seats
The first thing to know about the M2 is that it can come with either some fantastic touring seats, or it can come with race-day seats. Our M2 media tester had the latter. The M Carbon bucket seats are the most aggressively bolstered seats we have ever sat in any vehicle that can be registered for use on public roads. The lower side bolsters are so extreme you have to climb in over them to enter, and they climb up and out of them to exit the vehicle. But that isn't the most important thing to know.
The seats hug you so tightly at the hips where your femur meets your pelvis you cannot have keys, a phone, or a wallet in your pant's front side or rear pockets and sit in them. Otherwise, they dig into you. The seat itself was just wide enough for my 6-foot-tall, 200-pound frame. One more ounce, and I would not have been able to fit between the bolsters. If you are a woman with hips, be certain you try them before you buy. You may well not fit in the seats at all.
On a racetrack, I'd want these exact seats. They are ideal for putting you into a NASCAR-style upright and close-to-the-wheel position with elbows bent. The seats hold you firmly in position, and you don't need to use your left leg to pin yourself back against the seat in turns. This is how you sit inside a racecar. It allows you to work the wheel and pedals and gain the best leverage when doing so. However, nobody wants to sit this way on a back-country blast on a Sunday morning, never mind on a road trip.
Now, remember, the M2 doesn't have to come with these seats. You can get conventional sporty-luxury-style seats. If you are not planning to use your M2 primarily for track days, you want those other seats.
Ceiling and Roof
The BMW M2 is a coupe, so not a convertible. At least not yet. Maybe BMW will add one later. If you plan to track your M2, you should opt for the carbon-fiber roof. We hear it saves a bit of weight. Weight up high is not good, so reducing it and having a fixed roof is a good move if you are thinking track days.
If you are not thinking track days, and instead want to use the M2 as a touring and road trip car, don't get the carbon roof. Instead, opt for a moonroof. It will brighten up the cabin, and on nice days, you can open it up and enjoy glass-down motoring, almost like in a convertible.
Track-Day Car - Opt For The Carbon Package and M-Driver's Package
The M Carbon bucket seats up front and the carbon roof are both part of the $9,900 Carbon Package. If you plan to use the M2 as primarily a track-day car, you want this. You also want the M Compound Brakes with Red Calipers. You can choose whichever transmission you want, and there is no cost adder for either.
There is a second option for track-day owners. The $2,500 M Driver's Package raises the top speed of your BMW M2 and it includes a unique 1-day high-performance driving class at a BMW Performance Center. BMW has designed the course so drivers can come up to speed on driving their vehicles through various high-speed exercises. This lets you experience the limits of the vehicle in a controlled environment. Your author has tracked BMW M cars with BMW pro drivers on a racetrack. This was following graduating from three performance driving schools, including Skip Barber's Intro To Racing program. I still learned a LOT from the BMW pros in the passenger seat with me doing the driving during just a few "hot" laps. A full-day program would be incredibly valuable to anyone owning an M car. Even those with track experience.
BMW M2 as a Touring Car - Opt For These Options
If you are not buying the M2 primarily for use on a racetrack, avoid the Carbon Package. It will diminish your enjoyment on public roads. Instead, consider these options:
Live Cockpit Pro with Head-up Display $1,100
Adaptive Cruise Control $550
Wireless Phone Charger $200
Heated Steering Wheel $200
Related Story: BMW i4 and 230i Perfectly Explain Why EVs Own Luxury and Performance
Our time with the M2 was restricted to public roads. We found the M2 to be a fine automobile. It has power to spare, is not harsh over imperfect pavement, and it is easy to see how great this M2 would be on a racetrack after just a few hours behind the wheel. However, set up as a track-day car, the M2 is not as good as a touring car as many other modern BMWs are. You need to choose which way you are going to go with this car. If you opt out of the Carbon Package, you can still get the M Driver's Package and enjoy the car on track. However, the extreme M Carbon bucket seats and carbon roof will reduce your enjoyment of the M2 in daily driving and touring.
BMW deserves credit for its rapid move towards electrification while still maintaining a fleet of conventionally-powered grand touring masterpieces and fantastic M cars that can tear up a racetrack. The 2-Series is our favorite size of BMW. Just be sure you set up your M2 to meet your needs.
2023 BMW M2 images by John Goreham.
John Goreham is an experienced New England Motor Press Association member and expert vehicle tester. John completed an engineering program with a focus on electric vehicles, followed by two decades of work in high-tech, biopharma, and the automotive supply chain before becoming a news contributor. In addition to his ten years of work at Torque News, John has published thousands of articles and reviews at American news outlets. He is known for offering unfiltered opinions on vehicle topics. You can follow John on Twitter, and TikTok @ToknCars, and view his credentials at Linkedin