The 2024 Nissan Leaf stands as a testament to the affordability of electric vehicles, offering a gasoline-free driving experience for under $30,000. In an era where eco-conscious choices meet budget-conscious consumers, the Leaf emerges as a compelling option.
Despite its affordability, the Leaf does come with some limitations, notably a 50 kW DC fast-charging maximum capacity and a range of approximately 180 miles on a single charge, as determined in a 75-mph highway test. While these characteristics might be viewed as drawbacks for some, they need to be considered in the context of individual driving needs.
For those whose daily travels primarily consist of short, local commutes, the Leaf's compact hatchback design and cost-effectiveness make it a sensible choice. However, for those seeking greater range and faster charging options, exploring alternatives like the Hyundai Kona Electric and Chevrolet Bolt and Bolt EUV might be advisable.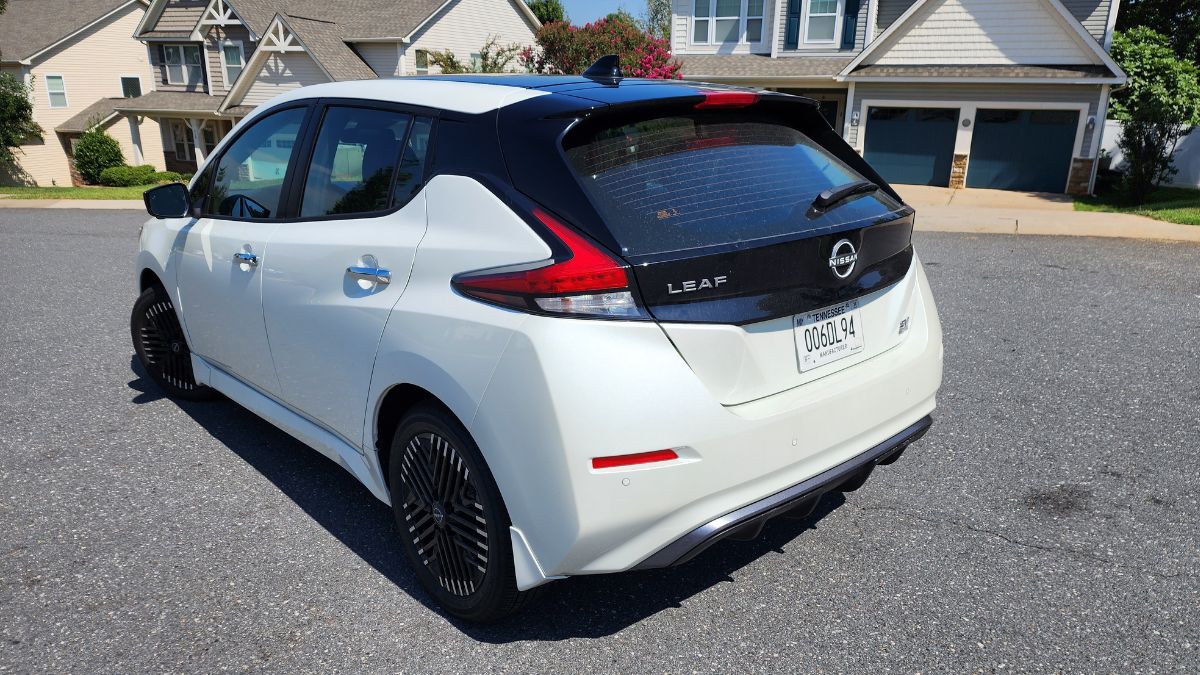 It's worth noting that Nissan has made the strategic decision to discontinue the Leaf, redirecting its focus and efforts toward its more upscale and larger electric vehicle, the new Ariya. This shift reflects the evolving landscape of electric mobility and Nissan's commitment to innovation in the electric vehicle sector.
In this review, we will delve deeper into the 2024 Nissan Leaf's features, performance, and overall value proposition to help you make an informed decision about your next electric vehicle.
What's New in 2024 Leaf
For the 2024 Nissan Leaf, there are no significant changes to report. The Leaf maintains its core attributes and features from the previous model year.
Trims and Pricing
So as I test-drove the 2024 Nissan Leaf SV Plus, I must say, it left a lasting impression. With one full charge of 236 miles we drove from Charlotte, NC to Columbia, SC, then from there to Lexington, SC, charged there in my friend's house with 110 volts for about 4 hours, and drove back to Charlotte through Columbia and still had 25 miles of range left.
The combination of the SV Plus trim's reasonable price and impressive range has made me a firm advocate for this electric vehicle. Let me break down the trims and pricing to give you a better idea of why the SV Plus is the standout choice.
Trim Levels and Pricing:
S: Starting at $29,235
SV Plus: Priced at $37,285
Now, let's take a closer look at these options. The S trim is an excellent entry-level choice for those looking to make the switch to an electric vehicle without breaking the bank. However, if you're like me and value both affordability and impressive performance, the SV Plus is the way to go.
With a price difference of $10,000 between the S and SV Plus, it's essential to consider what you're getting for that extra investment. Here's where the SV Plus truly shines:
Longest Driving Range: The SV Plus offers the most extended range among the two trims. This means fewer charging stops on your journeys, providing convenience and peace of mind.
More Powerful Electric Motor: The SV Plus comes equipped with a more robust electric motor, delivering enhanced acceleration and overall performance. If you enjoy spirited driving, this upgrade is certainly worth it.
Standard Equipment: The SV Plus comes with a generous package of standard features. You'll enjoy an 8.0-inch infotainment system with Apple CarPlay and Android Auto capability, making it easy to stay connected on the go. Additionally, automatic climate control ensures comfort in any weather, while keyless entry with push-button start and automatic headlamps add convenience to your daily routine.
In my opinion, the SV Plus represents the best value for your money in the 2024 Nissan Leaf lineup. Its combination of a reasonable price, impressive range, and enhanced performance make it a standout choice for anyone considering an electric vehicle. Look at the Leaf's beautiful tires.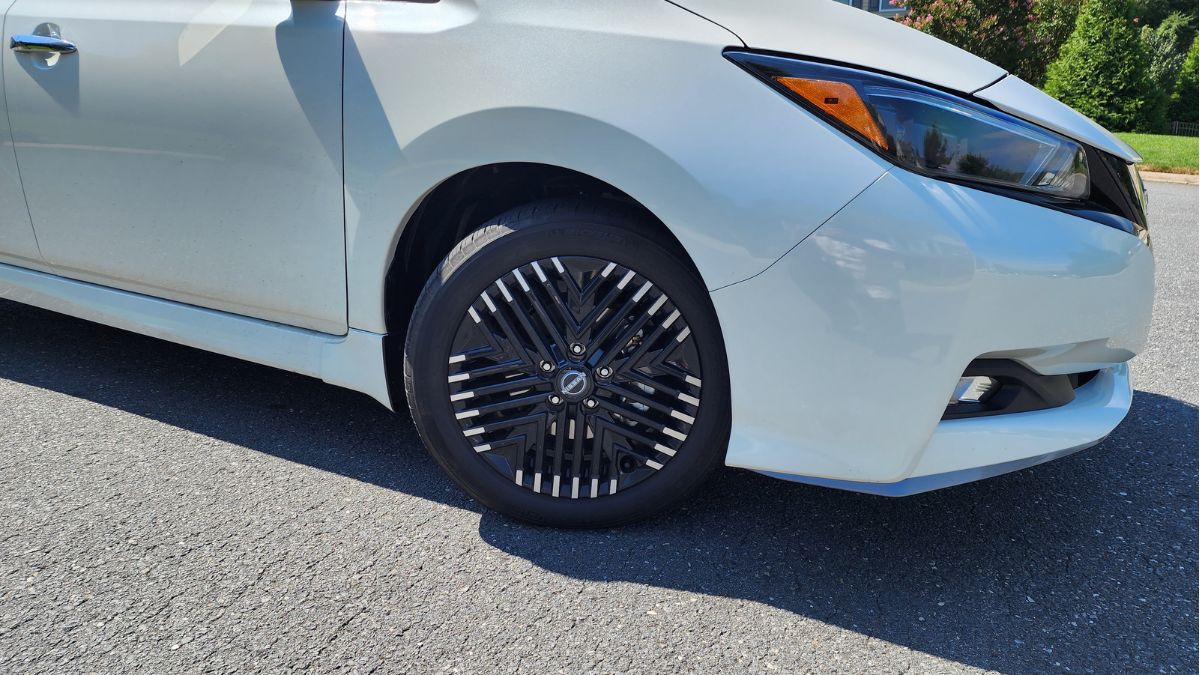 Whether you're commuting to work, taking road trips, or simply enjoying the benefits of eco-friendly driving, the SV Plus delivers on all fronts.
Performance: The LEAF offers a smooth and quiet ride, thanks to its electric powertrain. The e-Pedal feature makes one-pedal driving a breeze, allowing you to control acceleration and braking with just one pedal. This adds convenience to city driving.
Charging: The LEAF's Quick Charge Port is a game-changer. The S model can charge up to 80 percent in just 40 minutes, while the SV PLUS takes 60 minutes. Plus, the standard portable charging cable offers flexibility, making it easy to charge at home or on the go.
Technology: The NissanConnect infotainment system with an 8-inch display, Apple CarPlay, Android Auto, and four USB ports keeps you connected. The charging timer and HVAC timer are thoughtful features for EV owners.
Safety: The LEAF comes standard with Nissan Safety Shield 360, providing a suite of advanced driver assistance technologies. This enhances safety with features like Automatic Emergency Braking and Blind Spot Warning.
Ownership: The EV Carefree+ package is a standout offering, providing peace of mind with scheduled maintenance, EV charging assistance, Battery Health Assurance, and Roadside Assistance.
Other reviewers have also praised the 2024 LEAF. Car and Driver and Edmunds offer detailed reviews, while Electrek's first drive review emphasizes the positive aspects of the vehicle. Woodfield Nissan provides additional information about the 2024 LEAF.
Interior
My long trip from Charlotte to Lexington, SC with my family in the Leaf, was a very comfortable driving experience. 
The 2024 Nissan Leaf offers an interior that balances comfort and practicality. While the cabin features a substantial amount of black plastic, the overall impression remains favorable due to well-constructed and uniform textures that prevent it from feeling cheap.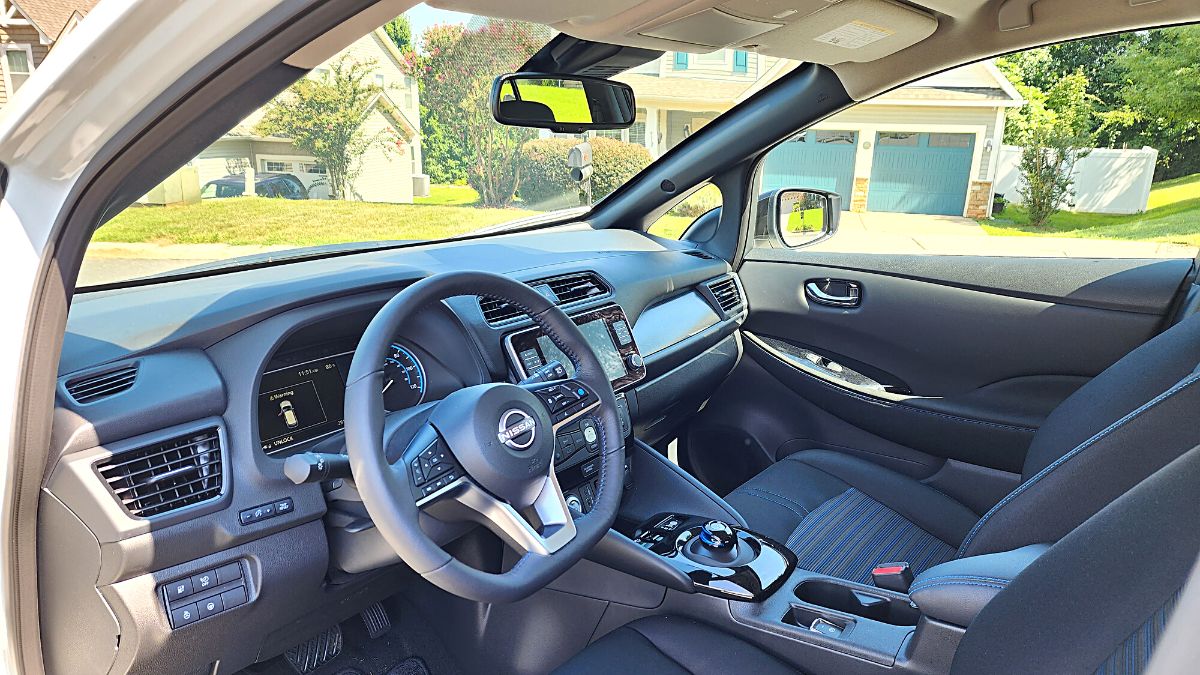 One notable feature in the Leaf's gauge cluster is a large analog speedometer accompanied by a 7.0-inch digital readout. This digital display is versatile, allowing drivers to configure it to show various information and displays, enhancing the driving experience.
In terms of comfort, the Leaf's seats receive high praise for their La-Z-Boy level of comfort. Whether you're in the front or rear seats, there's plenty of space for adults, ensuring a pleasant ride for all occupants.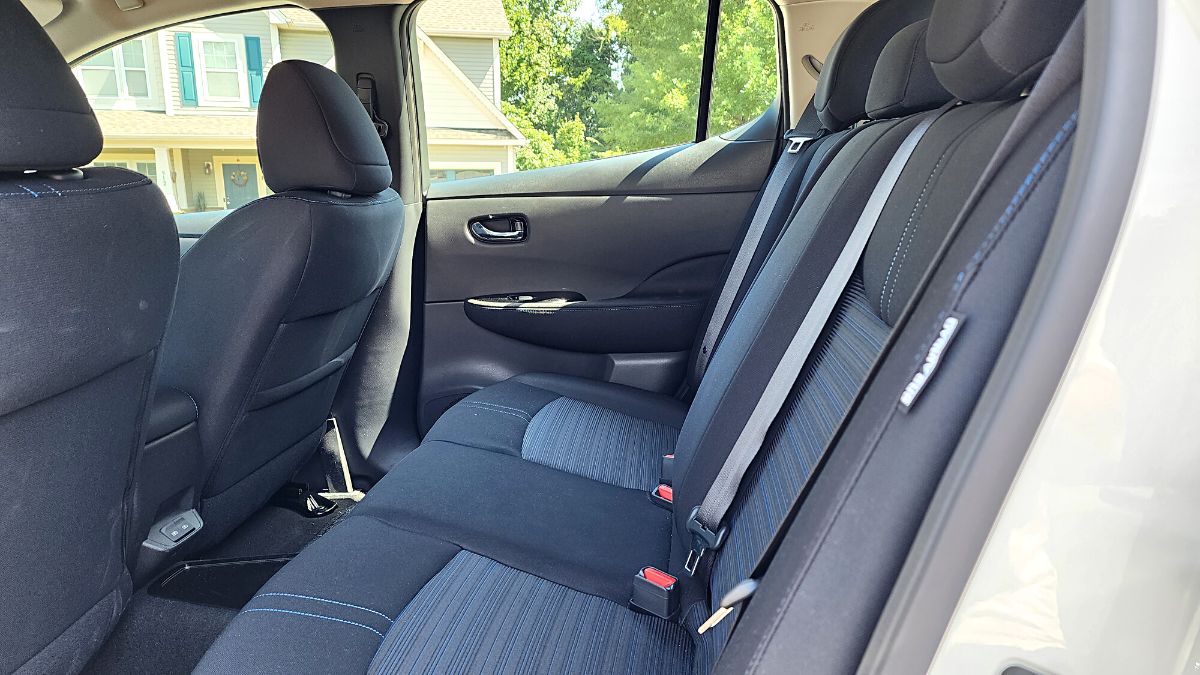 Cargo capacity is another standout feature of the 2024 Leaf. Despite the rear seat not folding to create a completely flat load floor, it boasts one of the best cargo capacities in its class. With the back seat in place, the Leaf can accommodate seven carry-on suitcases. Fold the back seat down, and it can fit an impressive 19 suitcases, making it highly versatile for various hauling needs.
For context, when compared to competitors like the Bolt EV, which can hold five carry-ons and maxes out at 16 with the back seats stowed, and the Niro EV with slightly more cargo space, the 2024 Nissan Leaf remains at the top of its class in terms of cargo capacity among electric cars.
The Drive
The 2023 Nissan Leaf offers a comfortable and smooth driving experience. The electric motor provides instant torque, so there's no lag when you press the accelerator pedal. The ride is also well-damped, so you won't feel every bump in the road.
Keep in mind that the Leaf is front-wheel drive only. It has a reasonable cargo space, with 23.6 cubic feet behind the rear seats, despite some reviewers considering it somewhat small. I have seen smaller trunks. I think Leaf's cargo space is reasonably big for a good side sedan. I find the interior of the 2024 Leaf comfortable and well-equipped.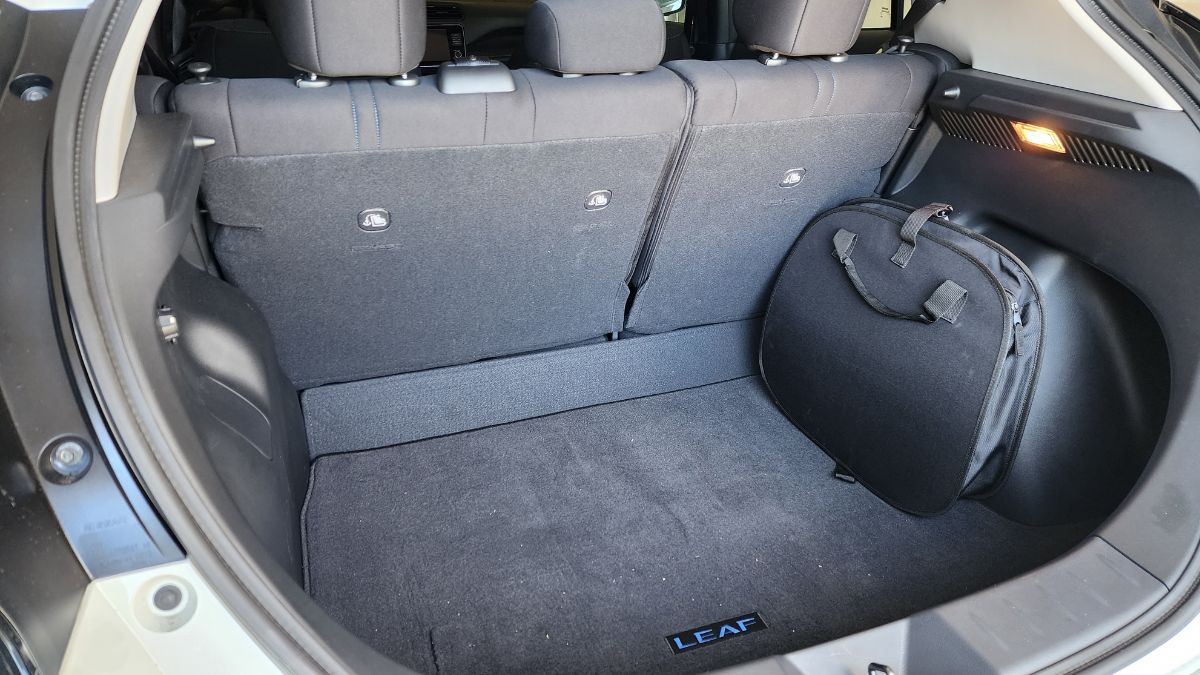 While the 2024 Leaf doesn't introduce any major updates or revisions, it's still an affordable and accessible electric vehicle option for those interested in transitioning to eco-friendly transportation. As automakers continue to evolve their electric vehicle offerings, Nissan is directing its focus toward its more upscale and larger electric vehicle, the new Ariya.
Overall, the 2024 Nissan LEAF is a compelling choice for those looking for a well-rounded electric vehicle experience, with convenience, technology, and safety all in one package.
Do you like the Leaf? Please, share your experience in the comments section below and let me know if I forgot to cover anything major in this review about the new Nissan Leaf.
Armen Hareyan is the founder and the Editor in Chief of Torque News. He founded TorqueNews.com in 2010, which since then has been publishing expert news and analysis about the automotive industry. He can be reached at Torque News Twitter, Facebok, Linkedin and Youtube. He has more than a decade of expertise in the automotive industry with special interest in Tesla and electric vehicles.