Following the GLE from which it is derived, the Mercedes-Benz GLS gets a refresh for 2024.
Now, you might have heard about the 2024 GLS 450 and its mighty 375-hp turbocharged inline-six engine – a smooth operator in its own right. But for those of us who like to embrace that badge snobbery and demand a little extra oomph, the GLS5 80 is the way to roll.
Picture this: a roaring 510-hp twin-turbo V-8 engine propelling this luxury SUV forward. But hold on, because this Mercedes isn't just about tarmac and urban roads – it's got a wild side, a knack for off-road escapades that'll leave you grinning from ear to ear.
Mercedes engineers have turned this elegant giant into an off-road conqueror, ready to take on challenges. With an air suspension that can raise the bar (quite literally) for more ground clearance, intuitive all-wheel-drive wizardry to keep your path true, and even armor-like underbody protection for those rock-strewn journeys. Yet, don't be perplexed - when you're back on the smooth asphalt, the GLS 580 hasn't forgotten its manners. It handles with grace, dances around corners with the precision of a maestro, and treats you to a ride so comfortable you'd think you were on a magic carpet. Move over rivals like the BMW X7, Land Rover Range Rover, and Lincoln Navigator, because the GLS is here to steal the show, and it's taking no prisoners.
What Has Changed and New in 2024 GLS
Revving into 2024, Mercedes has graced the GLS with a stylish makeover. The grille's got a fresh face, the front bumper's been reworked, and LED taillights now flaunt a new rhythm.
Inside, a revamped steering wheel and a symphony of new interior color schemes await. But the real showstopper? The mechanical heart.
Buckle up, because the GLS 450's six-cylinder powerhouse now flexes a vigorous 375 horses, delivering a punch that'll plaster a grin on your face as you conquer the open road. If that's not enough growl for you, the GLS 580 answers the call with its twin-turbo V-8's thundering 510-hp performance.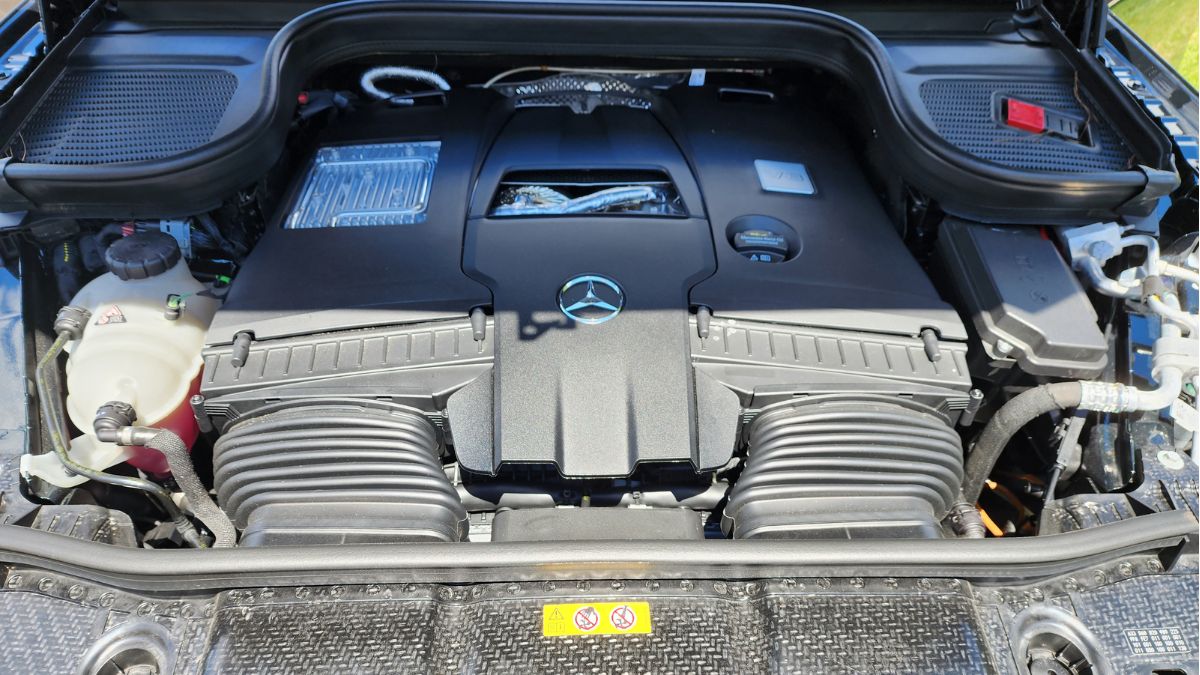 And hey, the GLS 580 isn't just a pavement-hugger – it's now available with the Off-Road Engineering package. This baby doesn't just crawl over rocks; it conquers them with style. With fortified underbody protection and a nifty air suspension that lifts it an extra 1.2 inches, there's no terrain too gnarly for this SUV.
Pricing and Trims of 2024 Mercedes GLS
Now, let's talk price tags, because let's face it, we all have budgets to respect. The GLS 450 beckons with a sticker price of $88,150, offering a balanced blend of muscle and luxury that's sure to please discerning drivers. But if you're ready to unleash the full stallion, the GLS 580 awaits with a ballpark estimate of $112,000. The full pricing of the 2024 GLS 580 4MATIC that came to me for this review amounted to $123,460. But here's the thing, and it's a secret worth knowing: the GLS 450's inline-six turbocharged engine isn't just a runner-up; it's a contender in its own right. This is where you save some cash without sacrificing performance or that intoxicating sense of refinement.
Exterior
All versions of the GLS get a new, slightly larger, rectangular grille. With the Benz versions, you get horizontal slats, while the AMG gets the vertical Panamericana slats and the AMG badge. My GLS 580 also had AMG floor mats. I think Mercededs throws them there in order to give the GLS 580 a little excitement. I have seen this happening before in other non-AMG Mercedes vehicles.
As for the Maybach, a chrome frame invites itself in addition to the thin vertical slats. All get redesigned bumpers, more classic with the Benz, more aggressive with the AMG and more flashy with the Maybach. In the latter, we discover a mesh made up of several small Maybach logos, a bit like we see in haute couture fashion designers.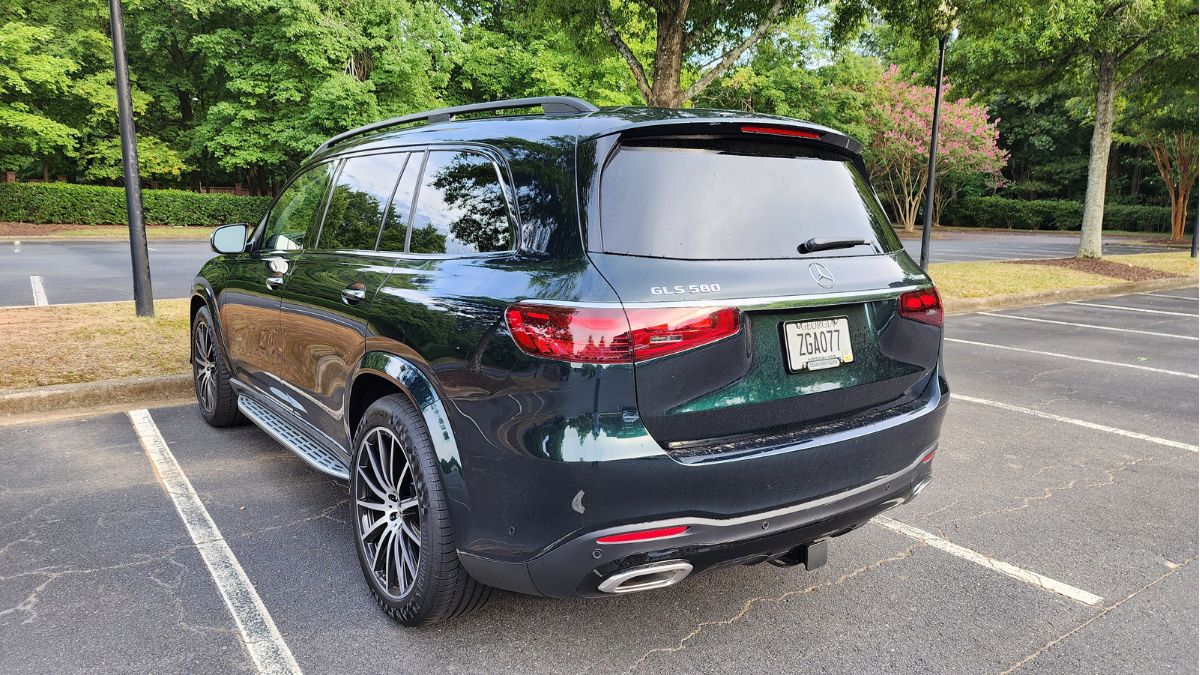 In profile, all GLS models, including the GLS 580, receive new rims including those of the Maybach GLS 600 which are particularly impressive. The latter also gets a retractable step when opening and closing the door.
At the rear of the GLS 580, we follow the approach of the front with an internal reconfiguration of the lights which are still only made up of LEDs. The bumpers and exhaust tips again differ from version to version.
Interior
While the four-bar grille and new LED lights highlight the exterior changes of the GLS, the most noticeable changes happen inside. The AMG sports steering wheel is standard equipment, while a high-gloss brown basswood trim is now part of the interior palette. The Manufaktur Piano Lacquer Flowing Lines, previously only available on the Maybach GLS, is now also available on the standard models.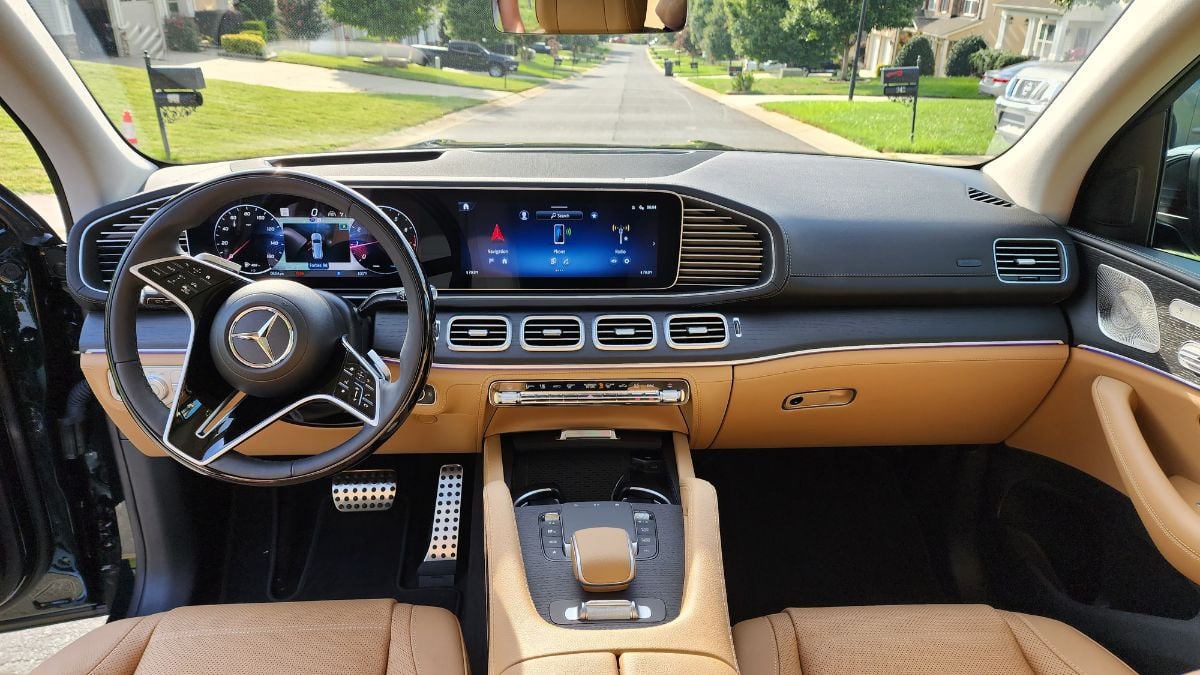 The GLS gets new non-metallic paint colors Twilight Blue Metallic and Alpine Gray, as well as two 100-watt USB ports in the rear of the center console. Feature-wise, there's still the MBUX infotainment system, with off-road mode and a standard 360° camera with a transparent hood function.
Inside, drivers will get new steering wheel controls, as well as the optional gloss piano black Maufaktur finish, which was previously reserved for the Maybach GLS 600 variant. Rear passengers will benefit from the same functionality as in the front thanks to the MBUX multi-seat entertainment system and the "Hey Mercedes" voice assistant.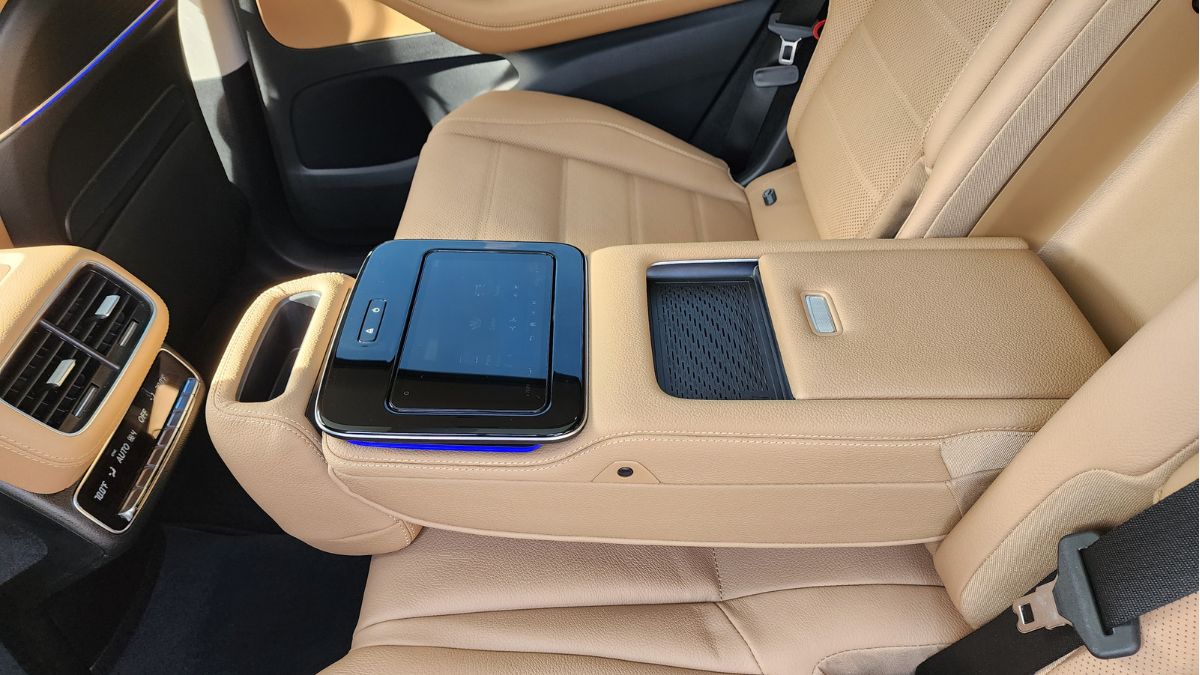 Second-row seats are very comfortable and spacious. However, the 3rd-row seats don't have much legroom. You have to test-drive and see it yourself.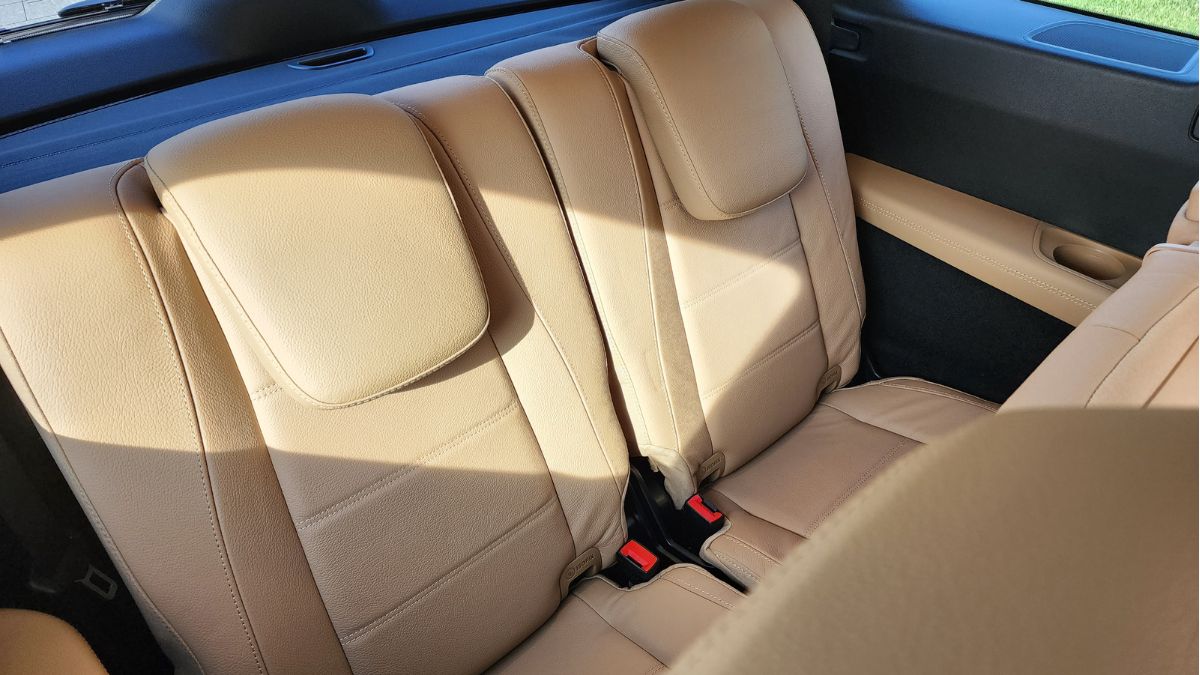 The cargo space is somewhat small, but fairly reasonable for a 3-row SUV of this size.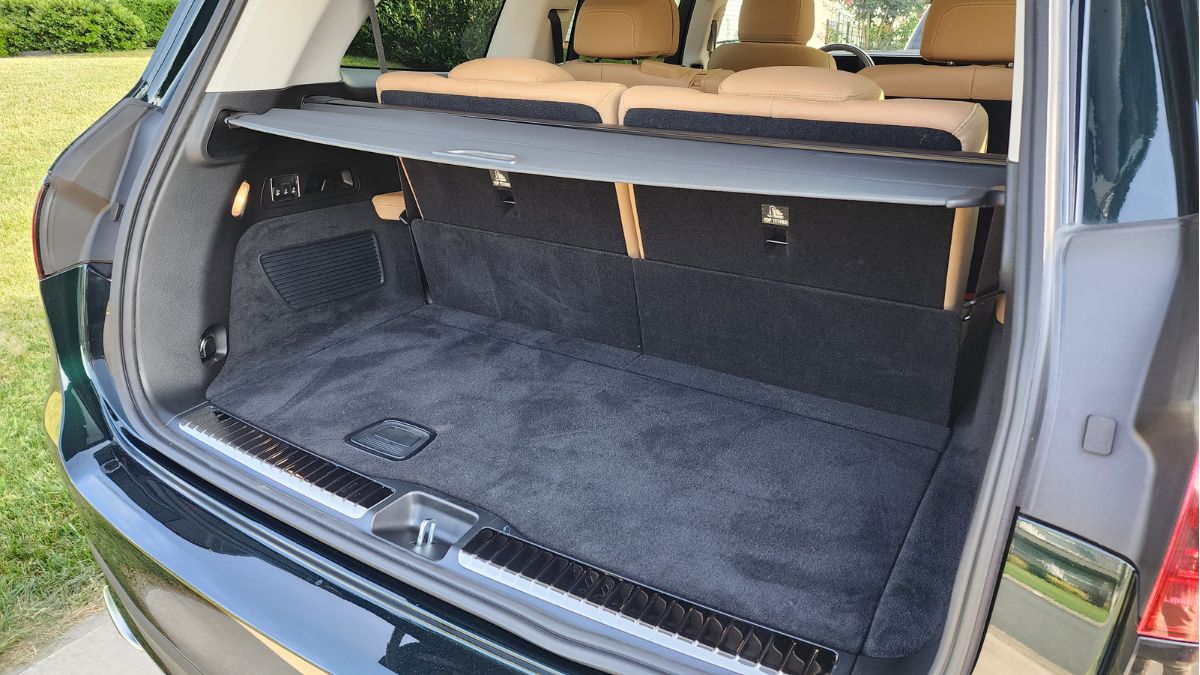 This updated MBUX infotainment system is offered with three different display styles (Classic, Sporty, and Discreet), all of which create a different cabin experience in conjunction with the mood lighting. Three modes are also available: Navigation, Assistance, and Service.
In "Off-Road" mode, information such as slope, lateral inclination, compass, and steering angle has a new visual signature. Thanks to the new "transparent hood", the driver can see what is happening under the front of the vehicle. The Off-Road Engineering package now offers an increased ground clearance of 30 millimeters.
Maybach and AMG models get additional equipment such as new wheel designs, new mood lighting functions and new body colors
Mild Hybridization Across The Range and GLS 580's MPG
The GLS lineup is fully hybrid with a 48-volt system on every version. This mild hybridization gives the GLS a performance boost over the outgoing model, starting with the GLS 450 which gains 13 horsepower to 375 horsepower and gets a 20 horsepower boost and 145 lb-ft of torque thanks to the hybrid system. The GLS 580 gains 27 horsepower to 510 horsepower and 22 lb-ft of torque and gets an increase of 21 horsepower and 185 lb-ft from this same system.
Yet, the overall fuel economy is 16 miles per gallon with 14/20 city/highway respectively. EPA estimates that the 2024 GLS 580 owners will spend $10,500 more in fuel costs over 5 years compared to the average new vehicle.
The Drive
The 2024 GLS 580 4MATIC has a comfortable ride, even on rough roads. The air suspension does a good job of absorbing bumps and keeping the cabin quiet.
The handling is responsive and the GLS 580 4MATIC feels planted on the road. However, it's not as sporty as some of its rivals, such as the BMW X7 M50i. Having said this, I don't think people buy the GLS 580 for sportiness.
The GLS 580 4MATIC is a smooth and refined SUV that is perfect for long road trips. The V8 engine is powerful and quiet, and the air suspension provides a comfortable ride. It's surprisingly agile for its size. It handles well in corners and doesn't feel too big or cumbersome.
Overall, the 2024 Mercedes GLS 580 4MATIC is a well-rounded SUV that offers a comfortable ride, powerful performance, and luxurious amenities. It is a good choice for buyers who are looking for a luxurious and versatile SUV.
Have you driven or owned the GLS class? Let me know your opinion or observations in the comments section, please.
Armen Hareyan is the founder and the Editor in Chief of Torque News. He founded TorqueNews.com in 2010, which since then has been publishing expert news and analysis about the automotive industry. He can be reached at Torque News Twitter, Facebok, Linkedin and Youtube.
Reference: RPMWeb, GuideAutoWeb.
Updated on Aug. 17, 2024 at 12:12 AM EST.