Hyundai proves that it can develop EVs and produce performance cars simultaneously. 
In 2023 Hyundai is a brand you definitely need to watch. Not only because the Korean brand is launching very cool products – including the Kona N that you see here – but also because it is constantly evolving. Not surprisingly, much of this development concerns the Ioniq program, which is now launching with the all-electric Ioniq 5. What's surprising is that they also emphasize their N performance brand, which only offers good old turbocharged internal combustion engine performance models.
What's New in 2023 Kona N
Except the capability of over-the-air updates for the Kona N's map and navigation system, nothing has changed from the 2022 model, as this vehicle was only recently unveiled to the market. The 2023 Hyundai Kone N costs $36,645. It gets 23 MPG combined and 20/27 city/highway respectably.
7 Features That Describe The Kona N
High-Performance SUV: The Kona N is part of Hyundai's N performance lineup, known for its sporty and powerful vehicles. It's designed to offer a thrilling driving experience.
Powerful Engine: It comes equipped with a potent turbocharged engine that delivers strong performance. Expect quick acceleration and ample power for various driving situations.
Sporty Handling: The Kona N boasts sport-tuned suspension and precise steering, providing agile and engaging handling characteristics. It's fun to drive, whether you're on twisty roads or city streets.
Quality Interior: Inside, you'll find a well-appointed cabin with comfortable seats and modern technology. It offers a good balance between sportiness and comfort.
Impressive Features: Hyundai typically equips its cars with a comprehensive list of features, including advanced safety technology and infotainment systems. The Kona N is no exception, offering convenience and safety features.
Unique Design: The Kona N stands out with its aggressive styling, featuring unique front and rear bumpers, large wheels, and N-specific design elements that enhance its sporty appearance.
Positive Reviews: Reviews and ratings from automotive experts praise the Kona N for its overall performance and value for money, making it an attractive option in the performance SUV segment.
Engine and General Performance
Under the hood, the 2023 Kona N packs some serious power with its 2.0L Turbocharged engine. Expect quick acceleration. It has an 8-speed Dual Clutch Transmission with Paddle Shifters and electronically controlled suspension.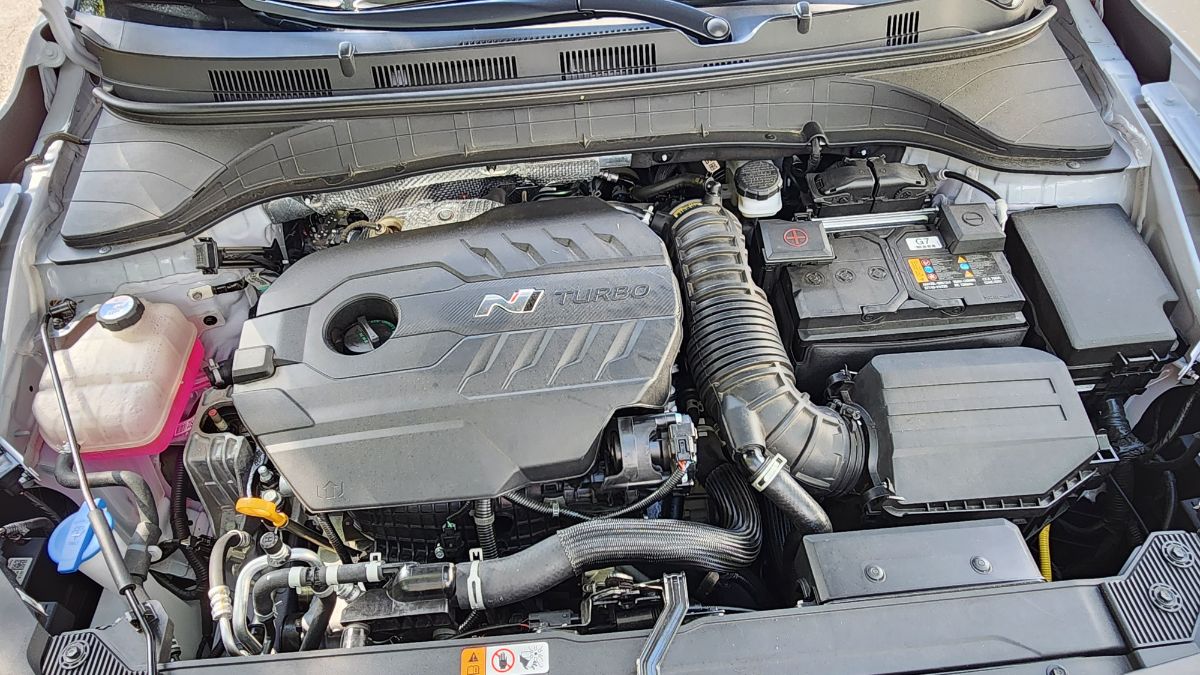 There is no manual gearbox on the Kona N. From what I read, Hyundai maintains that the vehicle's architecture cannot support it. Perhaps, but for a vehicle with such character, the 8-speed dual-clutch automatic can only be a source of disappointment. It works very well and quickly, but it's not a manual! This is largely the reason I really liked the Elantra N available with a 6-speed manual.
But it's not all about straight-line speed; the Kona N knows how to handle itself. With sport-tuned suspension and precise steering, it's like a sports car disguised as an SUV. The steering, indeed, is so precise, you'll feel the agility and engagement in every turn, whether you're navigating twisty mountain roads or zipping through the city streets.
Interior
Step inside, and you'll be greeted by a top-notch cabin. The seats are comfortable, offering the right balance between sportiness and everyday comfort. Here Hyundai continues its special attention to N with special N sports seats, Performance Blue detailing on the seats, gear lever and two steering wheel-mounted N mode buttons, plus a large button red with the inscription "NGR". This is the "N Grin Shift" system, which increases power by 10 horsepower for 20 seconds. As Hyundai puts it, "Just push a button on the steering wheel and the car will directly shift down to the most appropriate gear for maximum acceleration."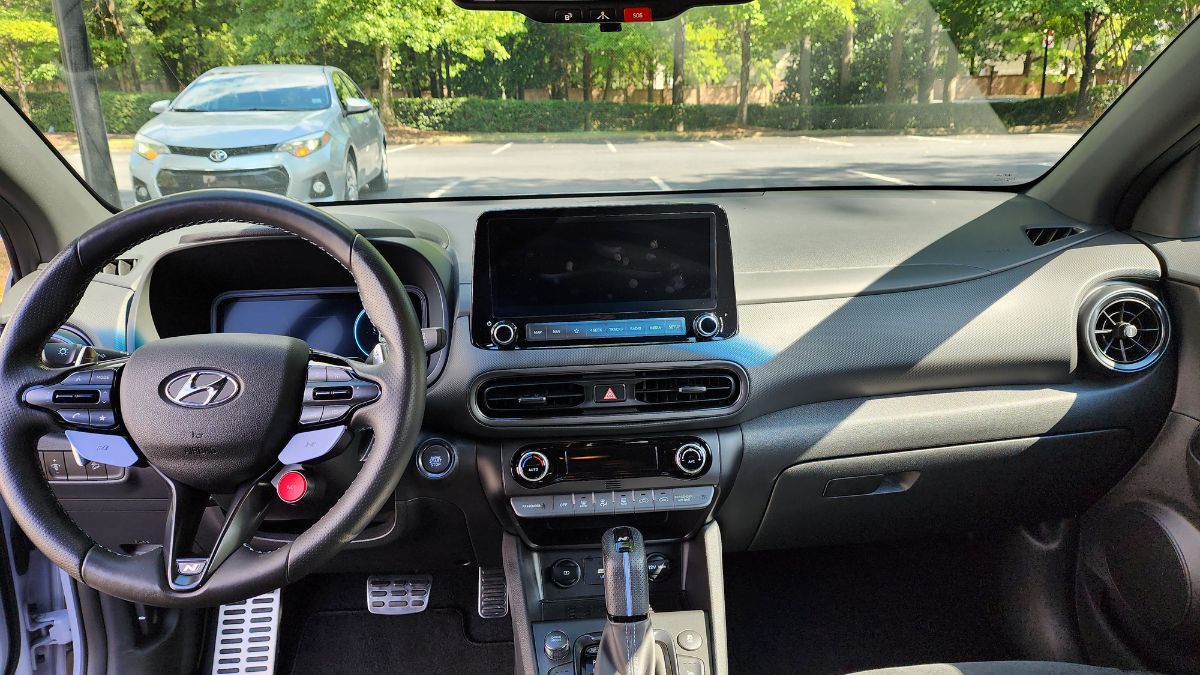 Although the seats are a little more padded than those of other Konas, even the broadest of us – a category that I fall into – will be perfectly comfortable. Rear space, meanwhile, is about what you'd expect from a vehicle this size, meaning most people will probably only use it for children, as he must. That or for more storage, since the seat backs can of course be folded flat.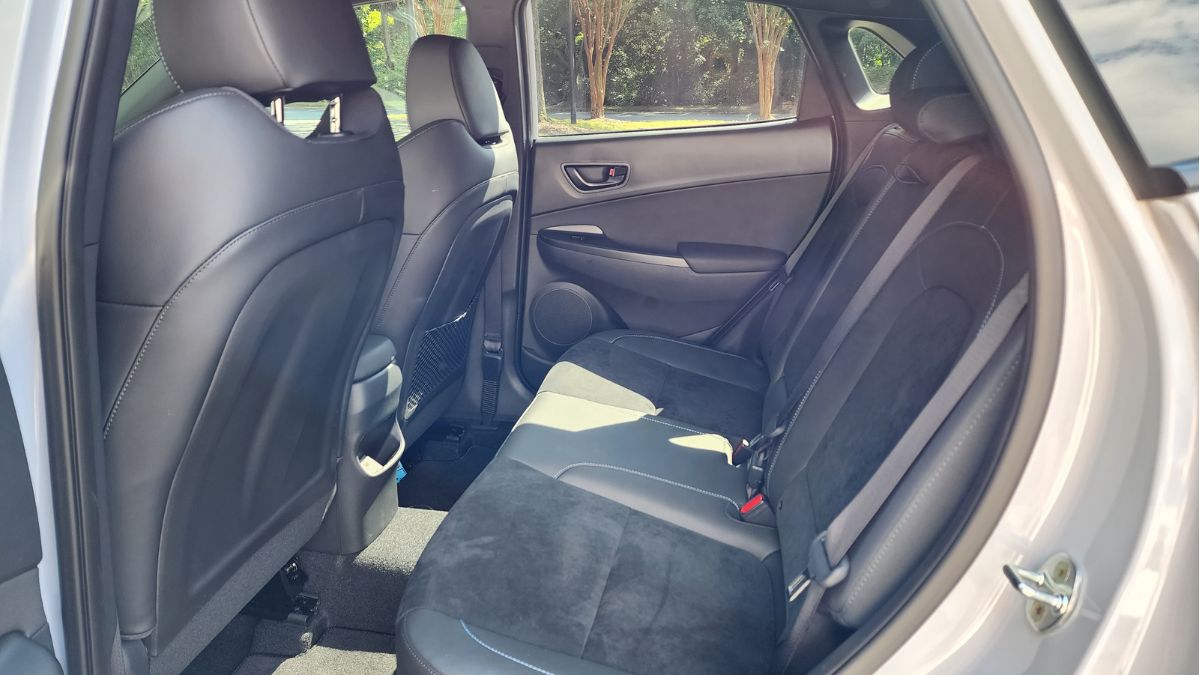 And speaking of the tech, as I have said numerous times in my reviews of Hyundai vehicles Hyundai doesn't skimp in that department. The Kona N comes loaded with all the bells and whistles you'd expect, from advanced safety features to a cutting-edge infotainment system. It's like a high-performance command center on wheels.
The 10.25-inch digital gauge cluster is customizable and gets some added "performance" styling that makes you feel like you're looking at the gauges of one of those touring race cars. There's also a performance display accessible from the main 10.25-inch screen that provides data such as G-force drive, lap time and oil and coolant temperatures. It's quite a sight, considering the crossover environment you're sitting in.
The trunk of the Hyundai Kona N is average for the segment, without standing out too much for better or worse. It offers 361 liters of capacity, which is not bad at all. In addition, the floor is flush with the body so that loading large objects is easier. The loading opening is very wide and is not too high, while there are some benefits such as lighting on this surface, as well as hooks to attach bags and other objects.
Design
Now, let's talk about that unique design. The Kona N doesn't just blend into the crowd; it stands out. With its aggressive styling, distinctive front and rear bumpers, and those large wheels, you'll turn heads wherever you go. It's got those N-specific design elements that scream sporty sophistication.
I already mentioned above and I reaffirm the design of the 2023 Hyundai Kona N is one of the points that I liked the most about this vehicle. Generally, the Kona model is available in various formats, from electric to hybrid, through versions conventional. However, each one has its own personality and that of the sportiest specimen is very marked.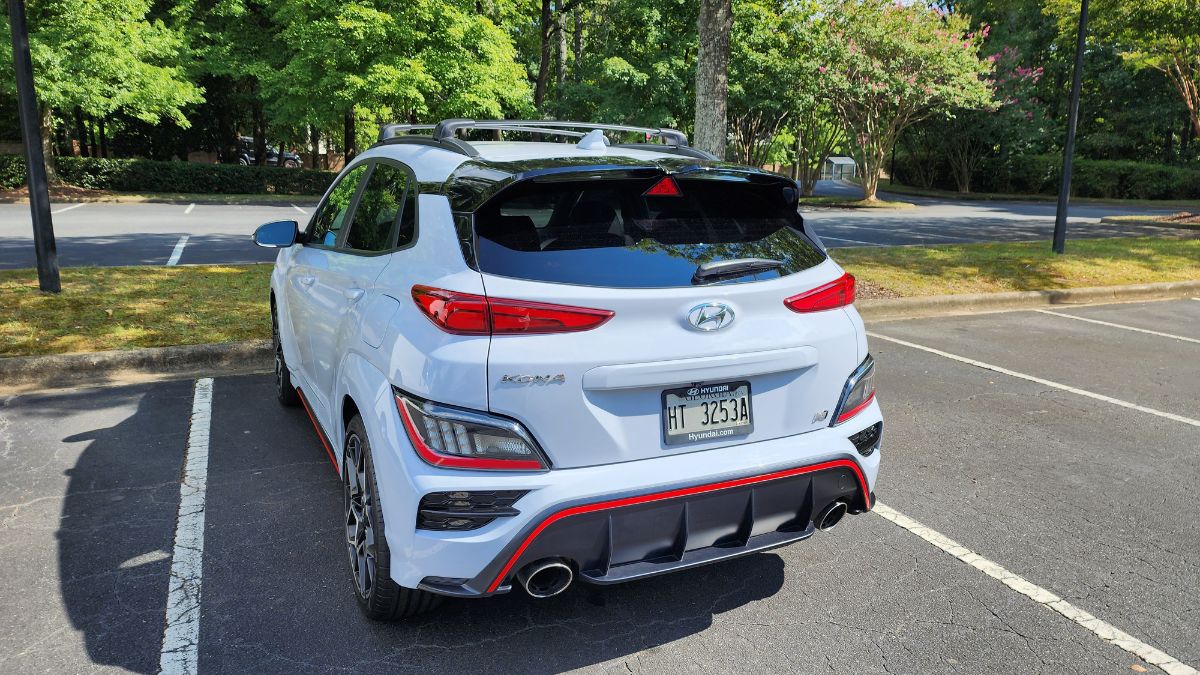 It is easy to distinguish it at first glance from any angle. On the front, details such as the divided LED headlights stand out, with the daytime running lights at the top and the main ones integrated into the air intakes. The false air intakes on the hood, the large grille, and a very prominent and differentiated bumper do not go unnoticed.
The specific details of the Kona N are numerous. For example, the red trim is present on the bumpers and side sills. In this example, we also see black mirrors that match the 19-inch wheels, with a very attractive design.
They are shod with Pirelli P Zero sports tires and inside you can see red brake calipers that have the N logo. The roof bars are hidden in this model since it does not have too many SUV pretensions and will rarely leave the asphalt.
In a nutshell, the 2023 Hyundai Kona N is a high-performance SUV with a powerful engine, sporty handling, a quality interior, impressive features, and a unique design that's making waves in the automotive world. So, if you're looking for a thrilling ride that won't compromise on comfort and tech, the Kona N might just be your perfect match.
If you like the vehicle, get it, because as I read in the RPMWeb, The Hyundai Kona N may not be renewed for a second generation. Hyundai would instead focus on the IONIQ 5 N. RPM has learned from reliable sources that upcoming greenhouse gas (GHG) emissions standards could discourage Hyundai from moving forward with a redesign of the Kona N.
Fast, characterful, and with a beautiful appearance, the Kona N offers a dynamic driving experience, without sacrificing the practicality of a small utility vehicle.
Armen Hareyan is the founder and the Editor in Chief of Torque News. He founded TorqueNews.com in 2010, which since then has been publishing expert news and analysis about the automotive industry. He can be reached at Torque News Twitter, Facebok, Linkedin and Youtube. He has more than a decade of expertise in the automotive industry with special interest in Tesla and electric vehicles.