Today's Hyundai Elantras are not what you have seen several years ago. Hyundai has made great improvements in this model, which truly surprised me. Let's review them together.
When considering a vehicle for your daily driving needs, the Hyundai Elantra emerges as a prudent choice. Its appeal lies in a combination of competitive fuel efficiency, an array of standard safety technologies, and the availability of various creature comforts. Notably, this choice is not devoid of distinctive styling elements, adding an element of aesthetic appeal to practicality.
What's New in 2023 Elantra
The year 2023 brings forth subtle yet consequential changes that redefine the landscape of this revered compact sedan. One notable transformation is the phasing out of the manual transmission option for the N Line model, replaced exclusively by the seamless dual-clutch transmission (but it looks like the manual N Line may be back in 2024). 
In a bid to elevate the tech-savvy nature of the Elantra, when equipped with the Convenience Package, some models now have a standard 10.3-inch digital gauge cluster paired with a 10.3-inch infotainment display. These intuitive interfaces promise to enhance the driver's connection with the vehicle.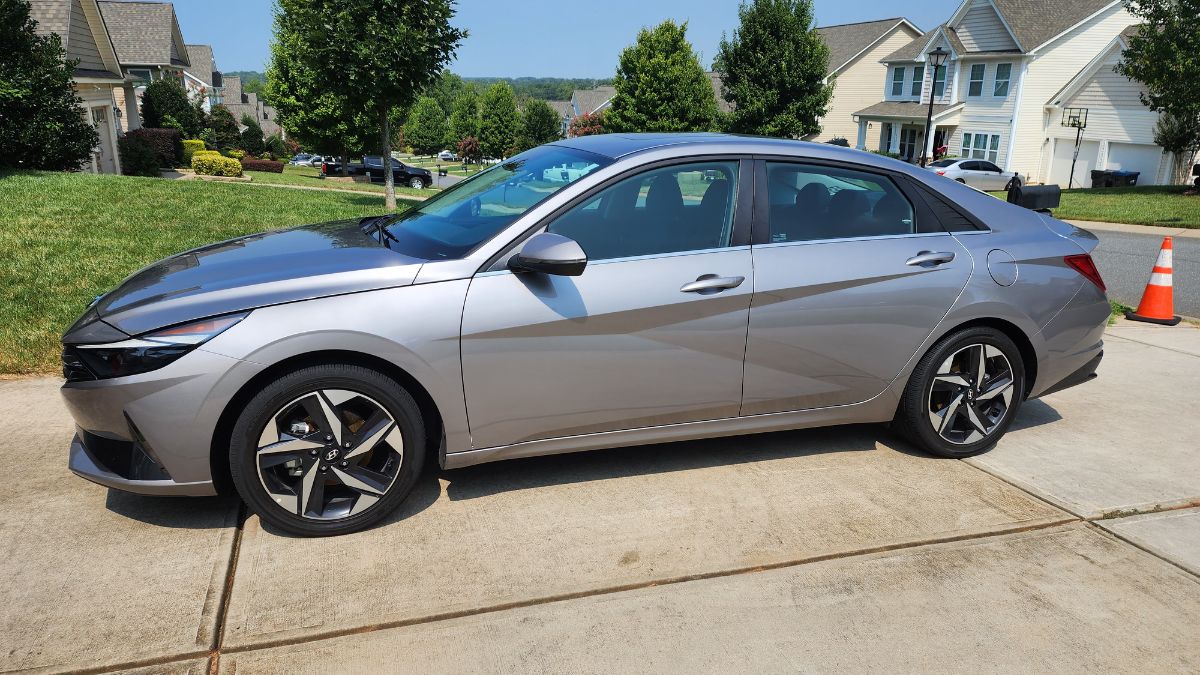 Further enhancing the driving aesthetics, SEL Convenience Package models graduate to 17-inch wheels, imbuing the Elantra with a more commanding road presence. Meanwhile, the SEL Premium Package takes a bow and gracefully exits the stage, making way for the new era of Elantra offerings.
In addition to the general Elantra changes in 2023, the Hyundai Elantra hybrid sedan gets a few equipment changes for 2023. The base Preferred trim is no longer offered, and the Ultimate version becomes the Luxury – the only one now available. This one now has 17-inch alloy wheels instead of 16, a Bose audio system, and a reversing sensor with autonomous braking.
Trims and Pricing
The 2023 Hyundai Elantra's trims and pricing "journey" begins with the SE, an entry point at $22,065, inviting budget-conscious drivers into the world of Elantra sophistication. Stepping up, the SEL, priced at $23,315, unlocks a trove of enhancements, bridging practicality and elegance. For those seeking an eco-conscious path, the Blue Hybrid, priced at $25,665, presents an environmentally considerate option.
Venturing deeper into the Elantra lineup, the Limited at $27,915 marries opulence and innovation, captivating discerning drivers with its premium amenities. The N Line, available at $28,615, ushers in an era of sporty exhilaration, appealing to enthusiasts with a penchant for performance. Finally, the Limited Hybrid, priced at $30,265, combines efficiency and luxury, promising a serene journey in the lap of automotive refinement.
Exterior and Power
The exterior design of this Korean compact sedan deserves commendation, as does the diversity within its model range. Hyundai has meticulously curated a selection of models by amalgamating diverse mechanical components, including four-cylinder engines, turbochargers, electric motors, dual-clutch transmissions, and CVTs. This results in six distinct offerings, ranging from the entry-level SE model to the Limited Hybrid variant. It's important to differentiate the sporty N Line trim from the significantly more potent N model, which we address separately.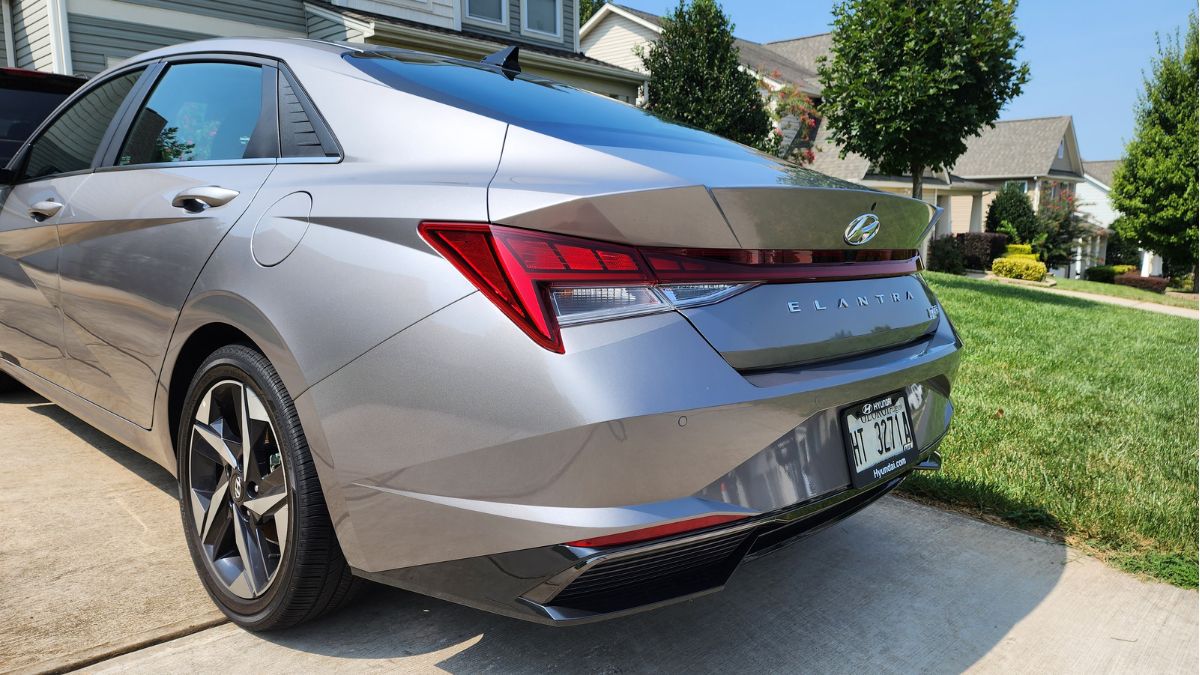 When we talk about the 2023 Hyundai Elantra Hybrid, the star of the show is its hybrid powertrain. What sets it apart from its fellow Elantra models? Well, it's all about that gasoline-electric hybrid combination.
Under the hood, you'll find a snappy 1.6-liter Atkinson-cycle 4-cylinder engine, all buddy-buddy with a 32-kW (that's 43 horsepower) permanent-magnet electric motor. Together, they churn out a total of 139 horsepower and a generous 195 pound-feet of torque.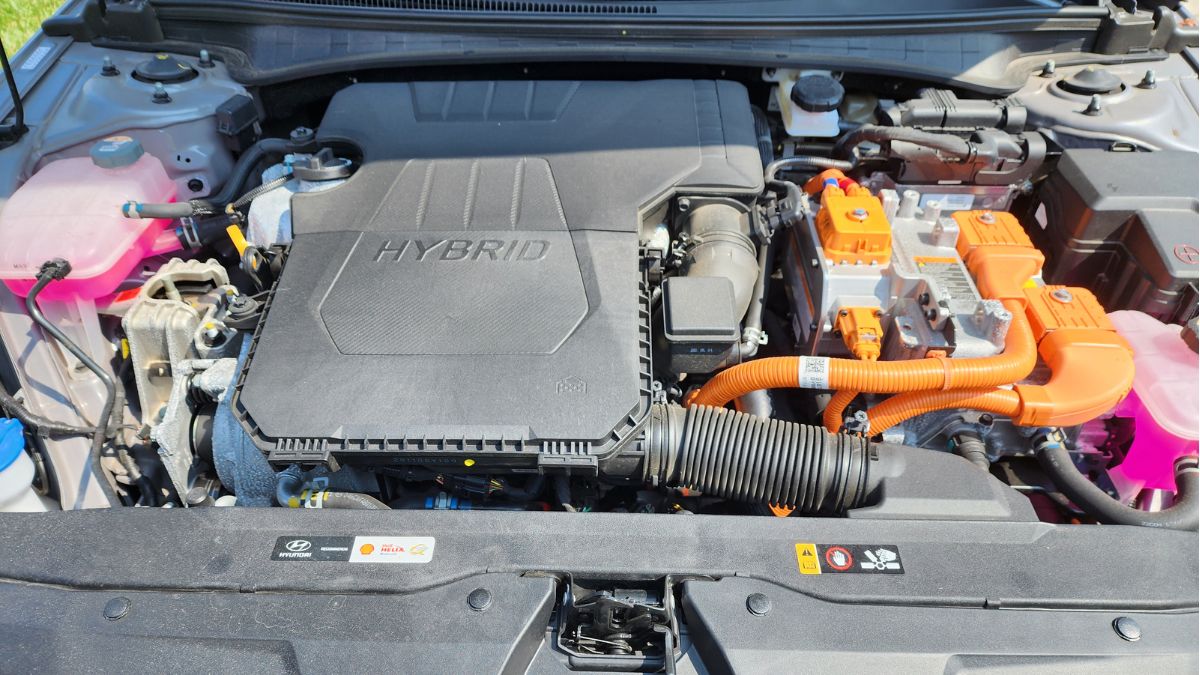 Now, here's where it gets interesting. Most hybrids these days are all about that continuously variable transmission (CVT) life, but not the Elantra Hybrid. Nope, it marches to the beat of its own drum with a 6-speed dual-clutch automatic transmission (DCT). What's the big deal, you ask? Well, the DCT adds a dash of excitement to your drive. You can even take control with paddle shifters and feel like a race car driver. Admittedly, the automatic mode can sometimes throw in a slightly "clunky" gear shift, but when you're in charge, it's quick and smooth.
Underneath, this hybrid buddy stores its power in a lithium-ion-polymer battery pack tucked away beneath the back seats. It's got a 1.32-kWh capacity and a handy 125 pound-feet of electric-motor torque. This tag team boosts both fuel efficiency and how smoothly the Elantra Hybrid cruises down the road. Oh, and it can go electric-only for a bit, though the range is kind of short. But hey, it's enough to sneak back home quietly after a night out with your pals – no fuss, no noise.
Interior
Step inside the 2023 Hyundai Elantra Hybrid, and you'll discover a cozy haven waiting to embrace you. It's surprisingly roomy for its class, so finding your perfect driving spot is a breeze. And when it comes to controlling your music or tweaking the climate settings while cruising, everything is within easy reach – no distracting fumbling with buttons or knobs.
One of the real standouts here is visibility. Thanks to the Elantra's compact design, it's a breeze to see the road ahead. Those side mirrors won't block your view on either side, and the wide side windows help keep blind spots at bay. It's a straightforward, user-friendly cabin, designed to make your driving experience smoother.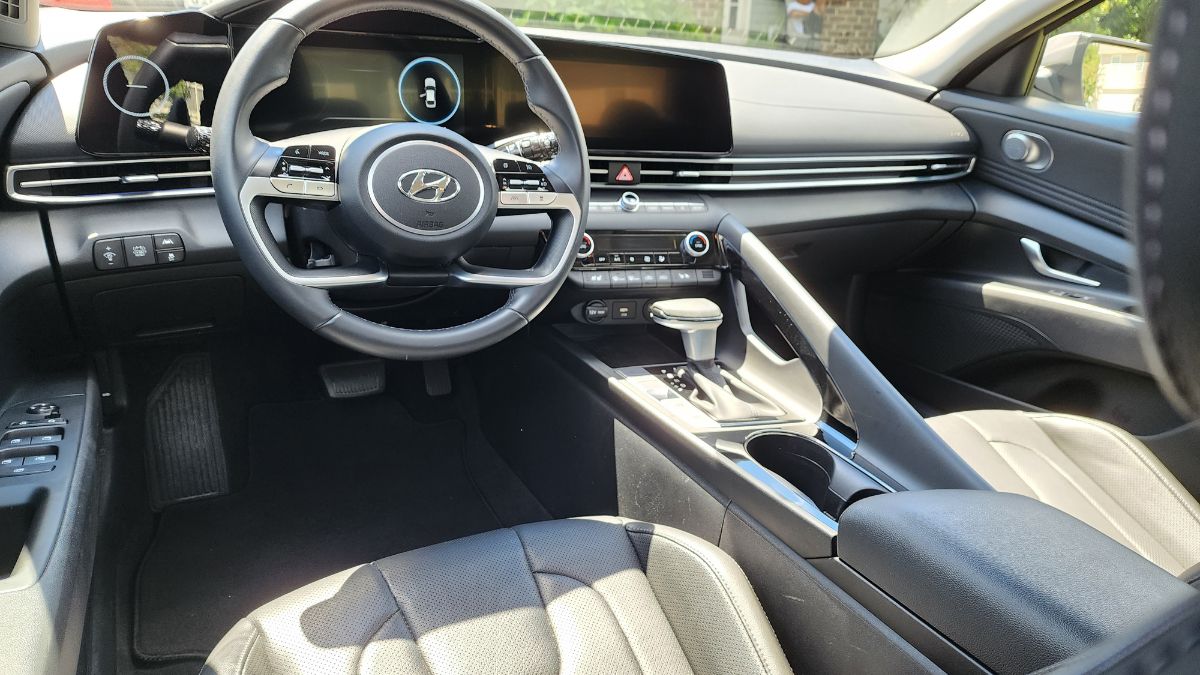 Now, let's talk about the interior quality. The 2023 Elantra Hybrid boasts a well-constructed cabin with a sleek, modern vibe. But here's the catch: there are a few too many budget-friendly materials on display, including some not-so-fancy hard plastics. It's a bit of a downer in an otherwise appealing interior.
When it comes to tech, the Elantra Hybrid's infotainment system is a star. It's intuitive, with menus that are a breeze to navigate, sharp graphics, and snappy response times. But here's the twist: if you opt for the Limited model, you'll need a wired connection to access Apple CarPlay or Android Auto. Standard features include an 8-inch touchscreen with wireless Apple CarPlay and Android Auto, satellite radio, HD Radio, two USB ports, a six-speaker audio system, and Bluetooth.
If you want to level up, there's a 10.25-inch touchscreen option with wired connections for CarPlay and Android Auto, voice recognition, navigation, wireless device charging, and an eight-speaker Bose audio system. Plus, you'll enjoy dual-zone automatic climate control, push-button start, remote keyless entry, and proximity keyless entry. For those craving a little extra, there's a 10.25-inch digital gauge cluster, ambient LED interior lighting, a sunroof, and the Hyundai Digital Key – letting you control your car with your smartphone, like a high-tech wizard.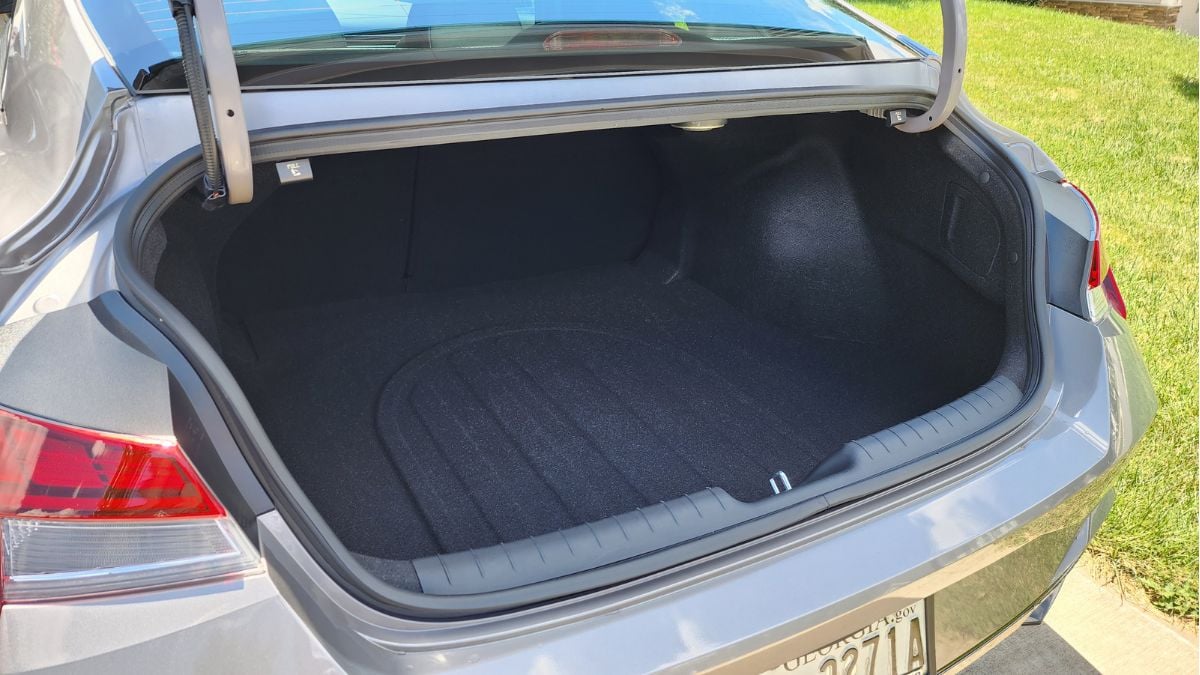 Let's not forget about space. The Elantra Hybrid's trunk serves up a generous 14.2 cubic feet of cargo room, pretty impressive for a compact car. While some hybrids may offer a bit more, keep in mind that many of them are hatchbacks or larger vehicles. And to make life even easier, a hands-free power trunk lid comes standard.
Now, how many folks can you fit in this hybrid gem? Well, the Elantra Hybrid comfortably seats five. Up front, there's plenty of room to stretch out, and even the rear seating area feels surprisingly spacious for a sedan this size. The seats are comfy, though some critics wish for a bit more padding and support.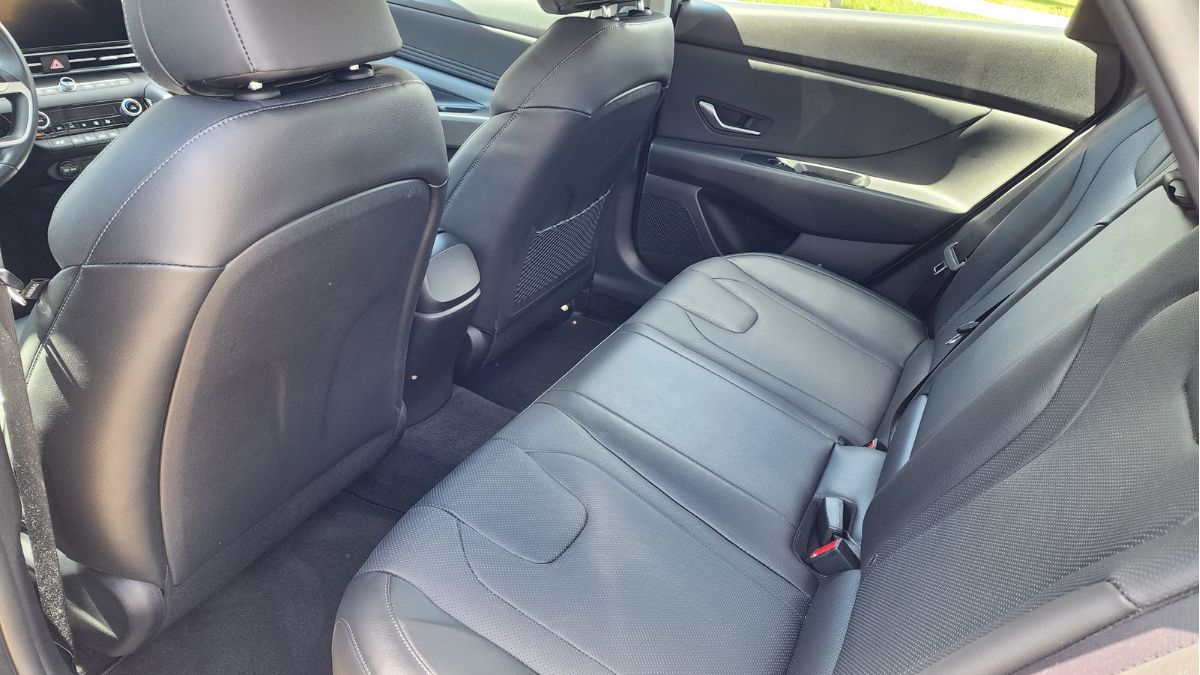 When it comes to keeping the little ones secure, the Elantra Hybrid is well-prepared. It sports two complete sets of LATCH connectors for the rear outboard seats and a tether anchor for the rear middle seat. So, you can rest assured knowing your child's car seat is securely fastened.
In a nutshell, the 2023 Hyundai Elantra Hybrid's interior offers a blend of comfort, tech, and practicality. It's a welcoming space that's ready to make your driving experience enjoyable and hassle-free.
The Drive
This car, I gotta say, is a real smooth operator. It doesn't just drive; it glides down the road, thanks to its hybrid technology.
When it comes to hitting the road in the 2023 Hyundai Elantra Hybrid, you're in for a unique driving experience, distinct from its conventional Elantra siblings and the performance-focused Elantra N.
Let's talk acceleration first. It's worth noting that the Elantra Hybrid doesn't quite pack the same punch as the base Elantra. However, it still offers a respectable amount of power to keep your daily drive engaging and smooth.
As for handling, the Elantra Hybrid showcases a different kind of charm. Its rack-and-pinion electric power steering provides a decent feel, ensuring you stay connected to the road without any major surprises.
Now, here's where the Elantra Hybrid really shines – the regenerative brakes. Unlike some hybrids, these brakes don't suffer from that annoying intrusiveness that can sometimes make your driving experience less enjoyable. They're responsive, allowing for a confident and smooth ride.
Speaking of rides, the Elantra Hybrid Limited is your go-to companion for those long journeys. It comfortably accommodates up to five adults, offering plenty of space to stretch out. And when it comes to cargo, the trunk is surprisingly spacious, with a generous 14.2-cubic-foot capacity – a standout feature in its class. Plus, with an 11.2-gallon fuel tank, you'll enjoy the exceptional range, making it a perfect road trip partner.
In my driving I almost made it to 52 miles per gallon on this Elantra.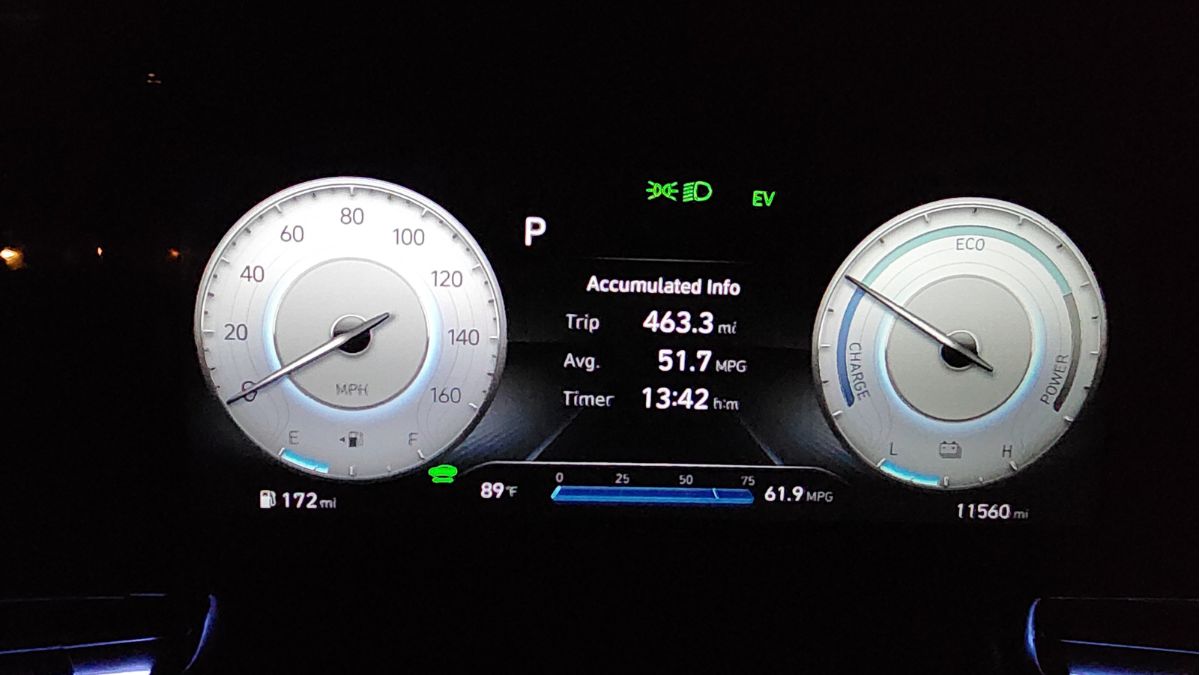 When you're navigating urban streets, the Elantra Hybrid's electric-motor torque comes into play, allowing you to zip through traffic with confidence. It's nimble, making it a breeze to slip into tight spots and navigate congested city streets.
When choosing among different Elantra trims, I would say, the Elantra Hybrid is the Elantra you should consider. It offers a smooth and efficient ride, packed with features to enhance your driving experience. Sure, the interior may not scream luxury, but the value you get for your money is truly exceptional. The Elantra Hybrid makes a strong case for itself among hybrid sedans and compact SUVs, proving that it's not just about efficiency – it's about a well-rounded driving experience that's both practical and enjoyable.
Coming Up in 2024 Elantra
Hyundai is launching its new entry models for the year 2024. A few days ago Elantra was shown for its home market in Asia. Now the company exhibited the new Elantra for the American public, which promises to generate a lot of sales.
Unlike the 2023 model, the 2024 version completely revamps the front end of the car, along with other performance upgrades and interior updates. This new design is part of the new marketing strategy that the South Korean brand has for the coming years.
Armen Hareyan is the founder and the Editor in Chief of Torque News. He founded TorqueNews.com in 2010, which since then has been publishing expert news and analysis about the automotive industry. He can be reached at Torque News Twitter, Facebok, Linkedin and Youtube.