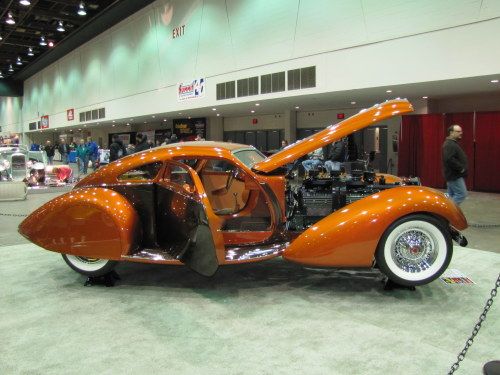 Remembering Autorama 2010 Award Winners in Detroit
As Autorama 2011 is about to engage Detroit next weekend, it's time recall the award winners of last year; and reset for the criteria that judges will use to pick the next set of show winners.
There are a number of official show awards and a number of private awards. The official awards are the Great 8 finalists for the ultimate prize, the Ridler Award. A Preservation Award is also given.
After that, a few private companies make awards to hot rods they deem to be above the rest. For example, a Pontiac owner received an award from one of the remaining Alexander Brothers.
In the basement area, Bob Spilos, an accomplished local Detroit rod builder, received the Gene Winfield Extreme Award for his Gear Heads hot rod.
The photo set reflects those Final 8 with the Ridler winner, plus the two private awards. The '34 Packard "The Myth" was my personal favorite.
The TN reference article is Autorama 2011 and the Ridler Award coming to Detroit Feb 25-27 and highlights the Ridler Award winner.
-----------------------
About the Author: After 39 years in the auto industry as a design engineer, Frank Sherosky now day trades, writes articles, books and ebooks via authorfrank.com, but may be contacted here by email: [email protected]
_________________________________________________________________
Additional Reading:
Full EVs at 2011 Detroit Auto Show not so green after all
High-efficiency small cars shine at 2011 Detroit Auto Show
Ram Trucks with natural gas could set a new trend in America
Electric Avenue lights up future at 2011 Detroit Auto Show
Tesla Model S illuminates aluminum-body structure at 2011 Detroit Auto Show