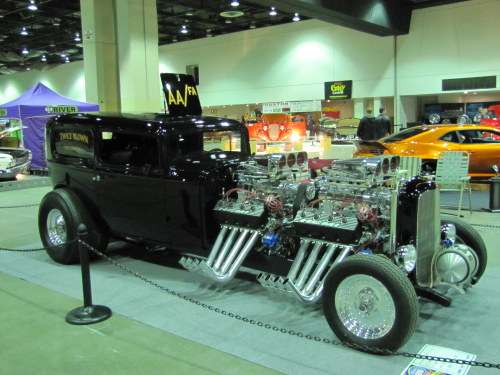 More hot rods, racers, sights and sounds of Detroit Autorama 2011
Captured in a photo gallery and video, hot rods, racing and autos shows weigh heavy on the minds of car buffs, especially at the end of a Detroit winter.
That's why, aside from the North American International Auto Show (NAIAS), the Detroit Autorama is the main automotive event of winter in the Motor City, especially for hot rodders.
There's more to the Autorama, though, than just a bunch of high-powered cars with fancy paint that may not even touch snow. Fact is, people come together from all over the country to participate in the contention for the Ridler Award.
The work involved in designing, building and detailing a car for the Ridler speaks volumes about the people who participate.
Recall that now famous, Chrysler 200, Imported from Detroit video during this year's Super Bowl where Eminem says, "This is what we do!"
As a son of a coal miner who walked to Detroit for a better life, I fully appreciate the message; and as a born and raised Detroiter, I surely get it! I just hope others do as well.
Truth is, despite the hardships of the loss of jobs in the past three years, we actually still do a lot here in and around the Motor City. The Autorama 2011 is just one more glimpse into the events and character of the people here.
So, below is a sampling of my photo gallery from this year's Autorama; plus my video and statement using the sights and sounds of this year's Autorama. Enjoy!
-----------------------
About the Author: After 39 years in the auto industry as a design engineer, Frank Sherosky now day trades, writes articles, books and ebooks via authorfrank.com, but may be contacted here by email: [email protected]
______________________________
Additional Reading:
Air hybrid technology key to 2016 and 2025 truck fuel economy
NGVAmerica expects growth of natural gas in vehicles to continue in 2011