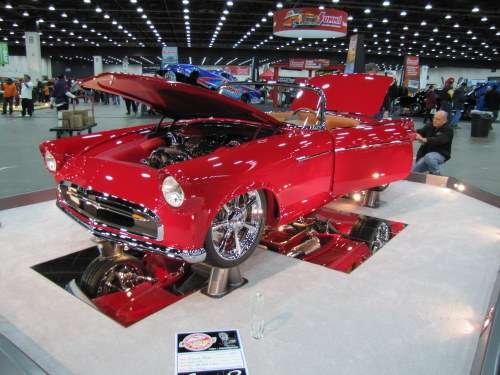 Gallery of the 2012 Pirelli Great 8 Finalists at Detroit Autorama
The Pirellia Great 8 selected at the 2012 Detroit Autorama represents the best of the best among the field of about 63 vehicles in contention for the Ridler Award. Of course, only one can win the coveted trophy. Nonetheless, The Pirelli Great 8 is a great honor of its own.
The Pirelli Great 8 field is made up of all styles and makes of cars. Although the listing is often late on the official Autorama website, here is the 2012 listing that was first made public to the web by streetroddersweb.com.
Entry 403: 1963 Chevy Nova convertible owned by Ronson Burton
Entry 405: 1967 Ford Mustang owned by Phillips
Entry 900: 1953 Chevy Pickup owned by Robert Komlofske
Entry 1309: 1955 Ford T-Bird owned by Dwayne Peace [Ridler Award Winner]
Entry 1509: 1932 Ford highboy coupe owned by Dave & Joyce Emery
Entry 1513: 1955 Chevy owned by Johnny Edmundson
Entry 1600: 1933 Ford ASC convertible owned by Mike Alexander
Entry 1800: 1932 Ford coupe owned by Peter Datino
Congratulations to the Pirelli Great 8 finalists, as it is an honor just to be named.
First shown is the Ridler winner, Entry 1309: 1955 Ford T-Bird owned by Dwayne Peace. Also read: 1955 Ford T-Bird wins the 2012 Ridler Award at Detroit Autorama