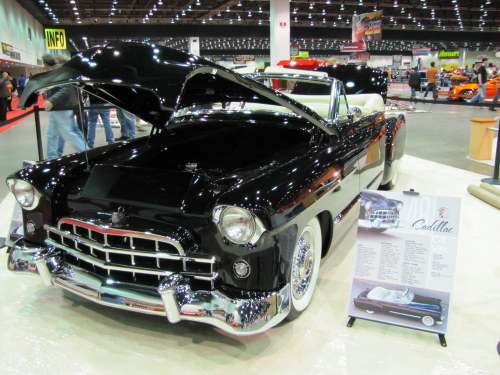 Custom Cadillacs show off at Detroit Autorama 2011
Aside from the traditonal hot rod Lincolns and custom Chrysler Imperials this year, the Cadillacs showed off as well at the Detroit Autorama 2011.
Some showed up in the Cavalcade of Customs display; others simply showed their metal elsewhere on the floor.
Bottom line here is that the hot rod and custom car crowd is well acquainted with the Cadillac tradition and the Cadillac image.
History

Cadillac was born in 1902, at the dawn of the twentieth century by its founder, Henry Leland. He was a master mechanic and entrepreneur, and named the company after his ancestor, Antoine de la Mothe Cadillac, born Antoine Laumet, the founder of Detroit.
Cadillac is currently the second oldest American automobile manufacturer behind Buick and among the oldest automobile brands in the world. Depending on how you choose to measure, som insist Cadillac is arguably older than Buick. Since GM has discontinued offering Oldsmobile, Buick has the distinction as the oldest American make.
If you ever get the opportunity to be invited to visit the GM Heritage Center in Sterling Heights, Michigan, you will not be disappointed.
Aside from all the other GM cars, Cadillac is well represented with vehicles that were the primo models of their day. I'll share those another time in a special gallery, dedicated to the GM Heritage Center.
-----------------------
About the Author: After 39 years in the auto industry as a design engineer, Frank Sherosky now day trades, writes articles, books and ebooks via authorfrank.com, but may be contacted here by email: [email protected]
______________________________
Additional Reading:
Air hybrid technology key to 2016 and 2025 truck fuel economy
NGVAmerica expects growth of natural gas in vehicles to continue in 2011
Dual fuel upgrades on the rise for heavy trucks
Will NHTSA and EPA proposed rules usher America into the age of natural gas?
GE demonstrates dual battery system as optimal for heavy vehicles
Marchionne announces EPA hydraulic hybrid technology for next mini-van