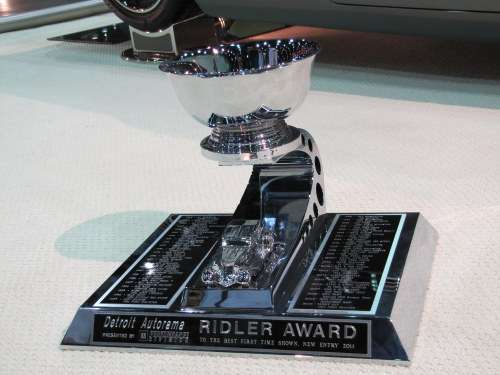 2011 Detroit Autorama Ridler Award Winner - 1956 Ford Sunliner Convertible
After all the photos and videos taken at the 2011 Detroit Autorama, the Ridler Award winner deserves a special gallery at TorqueNews.com
You will see the two awards: One is the actual Ridler Award to the owner (shown); the other is the Ridler Award to the builder (see below).
Of course, this vehicle was not built by a single person, but by a build team. So, I recognized their involvement with a group photo.
Likewise, the vehicle itself is the reason for the award. Photos record its setup at the Autorama in the first row.
That engine photo, though, is among my favorites, as it shows a clean engine compartment with a Ford 427 SOHC with dual, in-line 4-barrel carburetors.
For more the lively experience, please see the video I shot at award night as well.
-----------------------
About the Author: After 39 years in the auto industry as a design engineer, Frank Sherosky now day trades, writes articles, books and ebooks via authorfrank.com, but may be contacted here by email: [email protected]
______________________________
Additional Reading and Video:
Winners of Detroit Autorama 2011 Ridler Award celebrate on Cobo Floor
______________________________
Additional Reading:
Winner of Detroit Autorama 2011 Ridler Award is 1956 Ford convertible
Detroit Autorama 2011 announces Pirelli Great 8 Finalists for Ridler Award
Autorama 2011 and the Ridler Award coming to Detroit Feb 25-27