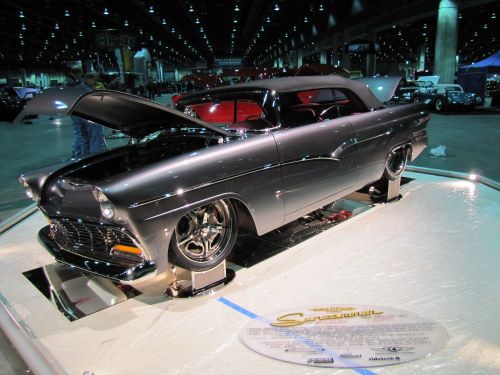 2011 Detroit Autorama Pirelli Great 8 in review
Detroit's love affair with the automobile is legendary. Yet, this year's Autorama proves once again that the love affair is indeed national.
Fact is, a new array of cars show up every year at Detroit's Autorama from all over America to compete for the coveted Ridler Award.
And for 59 years, the Detroit Autorama has paid tribute to the innovative workmanship that continuously re-invents and improves the vehicles of yesterday and today.
Of course, hot rods are always at the heart of each show, but in recent years the composition has expanded to include manufacturers displays as well.
As a result, today's shows appeal equally to those who own competition cars, specialty and concept vehicles and those who dream about owning them.
The Pirelli Great 8 finalists for the Ridler Award is the focus of this gallery. The first pic shown is the 1956 Ford with the 427 SOHC engine.
According to the Autorama website, the following are also named among the Pirelli Great 8. Congratulations to the owners.
Entry #0303 – Jim Marciniak from Andover, MN with a 1963 Buick
Entry #0305 – Mike Lethert from Roseville, MN with a 1939 Ford Convertible
Entry #1000 – Tim Gunsalus from West Alexandria, OH with a 1947 Chevrolet PU
Entry #1200 – Bruce & Toni Milyard from Grand Junction, CO with 1962 Corvette
Entry #1600 Bruce Ricks from Sapulta, OK with a 1956 Ford
Entry #1601 – Kenny Frederick from Geismer, LA with a 1957 Chevrolet
Entry #1800 – Kenneth Tallent from McKinney, TX with a 1940 Ford
Entry #1803 – Derrick Samson from Marshall, MO with a 1951 Chevrolet