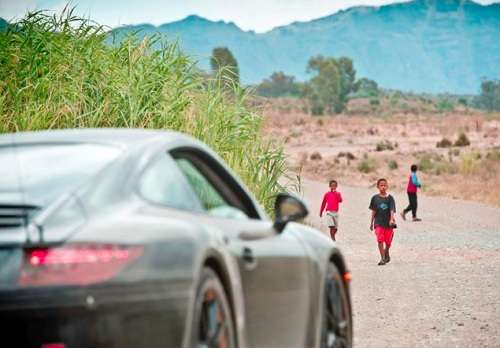 Porsche's new 2011 car testing backfires with controversial image
Porsche decided to go to the extremes while offering an insight in the testing of prototypes. One of the images of the prototype turned to be very controversial. Contrasting extreme poverty with extreme luxury, shared on its Facebook Page, backfired.
"Testing is an essential part in the development of any new Porsche. It is only by taking the cars to the extremes that we can ensure that our performance and quality standards are met," wrote Porsche's social media manager on the auto-maker's Facebook page. However, the image, seen on this page, proved controversial with some of the carmaker's fans, who called it "perverse."
The image gallery that Porsche shared, shows the company's drivers testing a new prototype what seems to be in a poor country. It's not clear if this testing is done in Africa or in South America.
This particular image that crated a heated discussion on Porsche's FB fan page, shows the luxury car driving through what seems to be a poverty stricken area, and three unattended boys, coming toward the luxury car.
A stark contrast. Some called it "perverse," others said it's at least "thought provoking."
The image from an artistic point of view is a good shot. It's even inspiring. Yet, it's certain that everyone will draw his or her own conclusion from this image. Two things are certain. One is that Porsche succeeded creating a good buzz about its new prototype. The second is that whether poor or rich, the children should not be unattended on public roads.