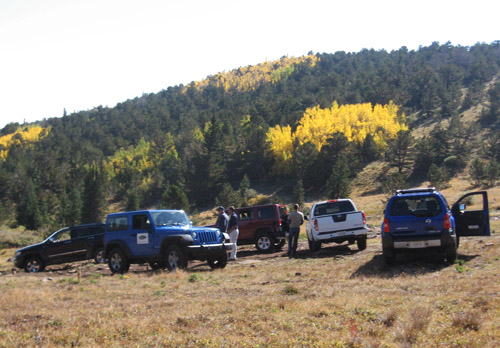 The men behind RMAP's 4XFall groundbreaking offroad event
Please
SHARE
with friends and include TorqueNews in
Google Alerts
for tomorrow's interesting stories.
Though there are numerous Four Wheeler clubs throughout the Western states and beyond, the RMAP 4XFall is the premiere event bringing the manufacturers along with their four-wheel and all-wheel-drive vehicles to Colorado's majestic mountains.
Here members of the automotive media can see what 4X4's, pickups and AWD SUVs and crossovers can do on the offroad trails some consider their bragging rights. We all know most SUV buyers seldom if ever take their vehicles off the pavement, but if a vehicle is promoted as able to go wherever you want, then it should be able to back up its claim, no?
"Most people live in a city and they go to the mountains only on a summer vacation," said Roman Mica of RMAP, "but they want to know if they do take their crossover or SUV off the beaten path it will not get stuck with the family at whatever river or campsite they're going to."
In all fairness, we have to mention the annual Texas Truck Rodeo, scheduled this year for Oct. 18-20, at which members of the Texas Auto Writers take anything that can be called a truck out to the Knibbe Ranch. This 22,000-acre spread is 28 miles north of San Antonio in the Texas Hill country – still run by a fifth-generation great-great grandson of the original rancher. This is one of the prettiest parts of Texas along the Guadalupe River, but it's far from the Rocky Mountains.
Torque News recently talked with Roman Mica, publisher of TFLcar.com, EverymanTRI.com and former president of RMAP, as well as Paul Shippey, president and CEO of Automotive Media Solutions (AMS), two of the principals behind the 4XFall about its genesis.
Roman Mica was president of RMAP in 2010, when discussion of having a Denver regional track day evolved into the first annual Rocky Mountain Driving Experience. Unlike other such gatherings around the country, it consisted not just testing out new vehicles at High Plains Raceway, but also involved elements of street and highway driving plus an offroad exercise held at Colorado Off Rode Extreme (CORE).
At the CORE site the media could drive an offroad rally course on the high, rolling plains of Eastern Colorado and also put 4X4's through a three or four obstacle technical course. It was out of this the idea of a true Four-wheel-drive event for the media sprouted.
"The RMDE had been to the same place the last three years (at CORE) and we thought it would be fun to separate that out and do something that's really Colorado," Mica said. "Where we are at is an offroad extreme park – so we thought why not put it in the mountains where it belongs."
So that was the kernel of thought from which the 4XFall began its genesis. Of course, like many ideas, it was much easier said than done.
"Getting the manufacturers to trust us to not damage the cars was a big thing," Mica added. "Testing a vehicle on the road is one thing but testing it over a boulder is something else, and there's not much between testing and damaging."
So this is where Paul Shippey comes into the picture as the liaison between the manufacturers and RMAP for both the RMDE and 4XFall.
Pages
Please
SHARE
with friends and include TorqueNews in
Google Alerts
for tomorrow's interesting stories.