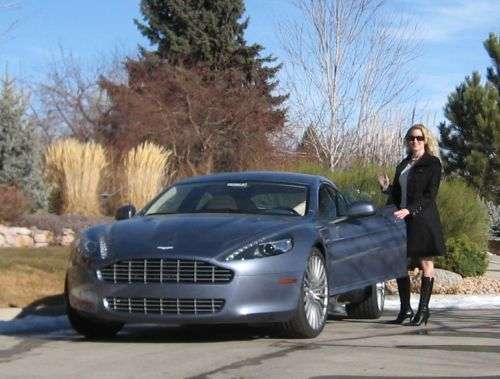 Close Up - the 2011 Aston Martin Rapide
That's thanks to a raked, understated B-pillar that blends into the interior from many angles. Then there's the clean lines, side vents, wheels that appear to be spoked, the sexy, slanted eyes with LED lashes and the toothy, vaguely menacing smile.
Inside the 2011 Aston Martin Rapide it's just as beautiful as it is comfortable – blue haze and cream truffle leather with contrasting stitching. Wood accents and seats that cradle you snugly as you anticipate launching this V12 rocketship.
Adjusting the seat with the buttons over your right thigh, you insert the smart key into the center of the dash between the four push button gear controls.
Pushing on the key you hear a whir of electricity and a monstrous form awakens – alert, ready and powerful, but there's no other movement.
The 2011 Aston Martin Rapide sits like a Prussian drill team at attention, straining to hear the Major's next command.
Beneath the hood, 470 fire-breathing stallions nervously wait in front of their gates awaiting the bell that tells them to run like the devil.
The model driven had only 178 miles on it – the motor wasn't even broken in. The freeway was out of the question so we drove it gently about a country club neighborhood for about 10 miles. Even that was a sublime privilege.
You don't have to drive it fast to feel its power – driving a $214,640 vehicle from a legendary make is frankly intoxicating. It is, however, an entirely legal libation.
Admittedly, the 5.9-liter V12 doesn't even develop as much power as the Lexus LFA's 4.8-liter V10, but then the Lexus hasn't been in nine James Bond films either.
It takes time to develop a legend like Aston Martin and it helps to have had a former owner/designer who actually raced the cars personally. That kind of seat-of-the-pants insight has helped to build the brand into what it is today.
Though our tastes personally run more towards the Vantage or the DB-9 convertibles, there's a lot to like in the Rapide.
One things for sure – with one of these cars you'll have no problem scoring a date. Of course, the fact you're a top-flight doctor or CEO won't hurt anything either.
Steven Leonard, Aston Martin specialist at Sill-Terhar Motors in Broomfield, CO, said the average buyer puts $100K down, paying the remainder when they get scheduled bonuses.
In Colorado they get 305 days of sunshine a year, which is a good thing because the exotic sports car is not fond of slippery surfaces. Something we discovered in our short sortie. So on snow days you just drive the X5, right?
In closing, driving this level of exotic car feels really good. We will let you know which feels best when we get around to trying them all – and we hope to do so soon.