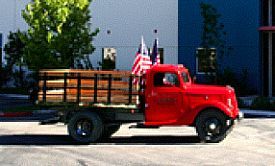 Classic cars, trucks gain new life at companies like Final Touch Coach Works
Charlie Rasmussen is a building & engineering magnate in Valencia whose office is right behind Final Touch Coach Works. His 1937 Ford Flathead was drivable when the project started, but there was a lot of rust. It had its original paint with all original panels intact. He sent it to his neighbors for restoration.
Final Touch's main business is as a body collision shop for RVs and Rasmussen couldn't help seeing all the coaches coming out of there glimmering with new paint.
Carefully conserved or masterfully restored American classics now sell for large amounts in Japan or the Middle East, and the right make and model is well worth the effort money to restore or enhance it's original glory.
"It's a great niche market," says Joel Forte, General Manager of Final Touch Coach Works. "Although our primary business is in RV paint and RV body repair, our roots are in exotic cars and we love participating in the paint portion of restorations."
For his 1937 Ford flatbed, Rasmussen wanted to keep it classic. The vehicle was given what is sometimes referred to as a rotisserie restoration, with every single part disassembled, cleaned, painted, restored or updated and replaced.
Given a vehicle with 74-year-old rust, screws were not easy to break free. This is where restoration expertise comes into play – knowing how to handle these inevitable problems. Screws, hoses and fasterners get updated with modern hardware, and some parts, no long available have to be custom remanufactured and can be very expensive.
Final Touch Coach Works repainted the frame and cab, but the body panels were a different story. There was some rust, but the owner wanted to keep all matching serial numbered body parts. So Final Touch had to cut out the rust and custom-fit and weld new pieces into place.
After completion, panels were trued, test fitted, and then faired and filled with compound for a show-car fit. Primer, paint and clear coat were then applied in stages in the company's 57-foot eco-friendly paint booth. Between stages, the surfaces were smoothed with various grades of sandpaper to ensure an absolutely perfect finish.
"One of the most fun parts of the project was the flat bed." says Forte. "We had to remanufacture some of the staking and locking hardware – but the attention to detail made all the difference and really paid off." The straightened bed features beautiful oak panels for the bed and custom staking and locking hardware.
Some of the chrome only required polishing. Other parts needed re-chroming. Rasmussen wanted the interior to have a classic vinyl bench seat and, while not true to the original, he added a headliner.
The last items to go onto the truck were two large American flags and Rasmussen was thrilled. The 1937 Ford looks like new. He uses the truck for groundbreaking ceremonies and other promotional events.
So if you have a classic car or truck stored away in a garage, out in the barn or sitting on the back 40 acres, think about restoring it to its glory – you'll be glad you did.