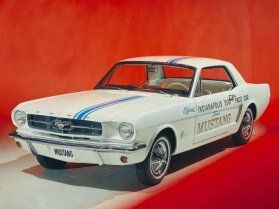 The 1964½ Ford Mustang
Ford performed what was, for the time, a media blitz as they put the new Mustang in every major newspaper and television network. This inspired over 4 million people to visit Ford dealerships to check out the car that would change the face of the American automotive industry and when the car finally went on sale, over 22,000 units were sold that first day.
The accolades of the Mustang continued, earning the privilege of being the Indy 500 pace car in 1964 and by the end of the first full year, the mighty Mustang set a record for first-year sales with over 417,000 units of the sporty pony car reaching consumers.
There were 121,538 Mustangs produced and sold in 1964 but with 1965 being the first official model year, these early models are frequently referred to as 1964 ½ Mustangs. There were no trimlines and the 1964.5 Mustang was available as either a convertible or a coupe. With a price of $2,320, the 1964 Mustang Coupe moved 92,705 units that first year and the $2,557 drop top Mustangs saw 28,883 units leave the lots.
The 1964 ½ Ford Mustang had three engine options – a 170 cubic inch inline-6 making 101hp, a 260 cubic inch V8 that offered 164hp and finally a 289 cubic inch V8 that made 210 horsepower.