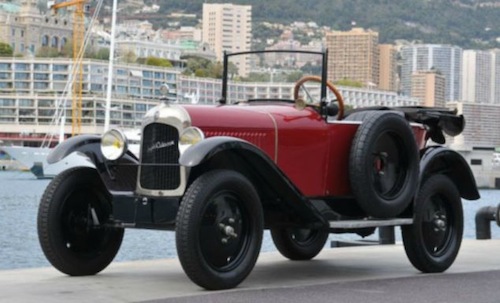 Prince of Monaco's incredible classic car collection up for auction
Although he is perhaps best known for marrying American actress Grace Kelly, Prince Rainier of Monaco was also an avid car collector. Prince Rainier, who ruled the Principality of Monaco for nearly 56 years, amassed a car collection of over 100 cars up until his death in 2005. Now the ruler's son, the sovereign Prince of Monaco, HSH Prince Albert has decided to place some of his father's vehicles up for sales at an auction which will take place next month. Auction-goers will have the pleasure to bid on a total of 38 classic cars once owned by Prince Rainier. The auction, which contains classic cars and military vehicles, will be held at Museum Terrasses de Fontvielle in Monaco on July 26.
So what will be up for grabs next month? Well, a couple highlights include a rare 1925 Citroen Cabriolet 5HP and a 1913 Panhard X19. Other classic cars include various other models from Panhard, Mercedes, Bentley, Fiat, Ford, Dodge, Citroen, Renault and Peugeot. All cars come with a personal set of Monegasque papers held in the Prince of Monaco's name. There is no reserve price for any vehicle.
As for the family's love of cars, auction documents quote Prince Albert II saying:
"The Princes of Monaco have always been passionate about motor cars. Prince Pierre initiated the Grand Prix in 1929, and competed in it, in a Torpedo. My father, Prince Rainier, took over the development of the race, which has today become one of the most prestigious events in the world. He also supported the Historic Grand Prix, which was established in 1997 and has enjoyed enormous success."
Aside from being famous for his car collection and famous wife, Prince Rainier III of Monaco was also responsible for multiple reforms made to Monaco's constitution. The constitutional amendments helped to expand Monaco's economy beyond its gambling base, which had been its primary econonomic mover. Presently, gambling accounts for just three percent of the nation's annual revenue, compared to 95 percent when Rainier took the throne. Rainier's reforms also put an end to autocratic rule in Monaco, placing power with the prince and an eighteen member elected council. He was the world's second longest-serving living head of state, prior to his passing in 2005.
Click HERE to view the auction PDF file.
Here is the full list of 38 vehicles with their prices:
1971 Fiat 500 (Type 110F) Abarth
1964 Dodge Dart coupé
1973 Chevrolet Camaro
1955 Citroën Traction 11C Commercial
1972 Lancia Fulvia 1.3 S coupé
1924 Maxwell torpédo
1930 Ford A roadster
1933 Austin Seven roadster
1924 Peugeot 172
1956 Bentley S1
1981 Citroën CX Reflex D Break
1939 Simca 5
1927 Renault NN
1958 Peugeot 203 C
1987 Fleur de Lys Newark
1982 Porsche 928 S coupé
1949 Simca 8
1931 Peugeot 201
1942 Dodge 4x4 Command Car
1942 Dodge WC 62 6x6
1943 GMC CCKW 3A1 6x6
1942 Dodge WC 51 4x4
1983 Mercedes-Benz 500 SEC AMG
1925 Citroën 5 HP torpédo "Trèfle", Super-culasse
1952 Citroën Traction 11B
1980 Citroën CX 2400 Pallas
1931 Plymouth cabriolet
1968 NSU Sport Prinz coupé
1913 Panhard & Levassor X19 roadster
1924 Panhard & Levassor X47 limousine Weymann
1926 Renault KZ
1924 Ford T
1969 Siata Spring roadster
1976 (selon carte grise) Volkswagen Coccinelle 1600 injection
1907 Berliet C2 double-phaéton
1931 Chrysler six cylinder limousine
1925 Citroën 5 HP cabriolet
1930 Ford AF coach
Please
SHARE
with friends and include TorqueNews in
Google Alerts
for tomorrow's interesting stories.