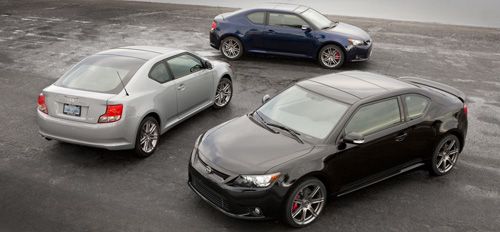 Redesigned 2011 Scion tC an Appealing, Sporty Coupe
The Scion brand seemed to have so much potential when it was first introduced nationwide back in 2004 after a limited rollout in 2003. Scion was going to be Toyota's hip, young alternative to its relatively stodgy, mainstream line of vehicles. It would be marketed using guerilla marketing techniques that eschewed mainstream outlets (and predated Facebook and Twitter).
The brand soon lost its hipness, though, when the average age of its buyers crept up and people bought the brand more because it was an alternative to their Toyota Corolla. It made them young again and that Scion xB sure was functional.
It's been on a sales decline this year with sales, through the end of November, down almost 22 percent from 2009 – and we all know what a horrible year 2009 was for new car sales.
All this means that the 2011 Scion tC is probably going to be ignored – and that's a shame because it is a heck of a good coupe. It's the first coupe in a long time (save for vehicles like the Corvette ZR-1) that I actually felt like driving. I'm not a coupe guy but the Scion tC could make me one again.
The first thing that struck me about the new tC is its zip. It has an all-new 2.5-liter inline four-cylinder engine that produces 180 horsepower, 19 more than the previous model, and 11 additional lbs.-ft of torque. Is it sports car quick? No, but with a 0-60 time just a tad under 8 seconds for the six-speed automatic, it's going to propel you through highway on-ramps with little difficulty. (The Scion tC also comes with a six-speed manual transmission.) Plus, it handles well on curvy roads where the electronic power steering really responds well, which is always a pleasant surprise from electronic power steering that in some cars delivers a vague feeling.
The model loaned to me for a week of testing by Scion came with the six-speed automatic transmission. The best transmissions are those you never notice – and that can be said of the tC's gearbox. It was smooth even under hard acceleration and did a nice job prompting fuel-efficient driving with the "eco" light that would encourage a light touch on the accelerator. Yes, I look for validation from my car when I feel like going green for short bursts of time.
The tC succeeds at being driving oriented, which is probably another factor in its appeal to me. It has a tilt-and-telescopic steering wheel that features a flat bottom. Sure, it provides additional thigh room as Scion points out but it also gives the steering wheel a sportier feel. Also for 2011, Scion made the seats thicker, with firmer seat bolsters, while the driver seat is six-way adjustable. Finding a comfortable driving position was easy, which can't be said of most entry-level coupes.
What's nice about the tC is it actually has some interior space. Sure, it's still inconvenient to wrestle a car seat in the rear, but the rear seats could actually accommodate a couple of smaller-size adults for short trips. A family with older kids (say those in booster seats) would find it an acceptable mode of transportation.
Scion has also succeeded in giving the tC, formerly best described as a cute car, a more aggressive look. The view from the side is almost muscular while the front angle gives off a strong look. You're never going to confuse it with a Dodge Charger but it still gives off a confident air. It has a more aspirational design than the previous generation, which seemed to say, "OK, I settled because it was all I could afford."
You're still going to be able to afford the tC but you're no longer going to feel like you settled. The tC starts with an MSRP of $18,275 when equipped with a manual transmission, and $19,275 when equipped with an automatic transmission. By the way, you pay no penalty at the pump with the automatic. Both transmissions are rated at 23-mpg city and 31-mpg highway. In my week with the car I averaged 25.5 mpg in a mix of highway and local driving.
VITAL STATISTICS
Wheelbase: 106.3 inches
Length: 174.0 inches
Width: 70.7 inches
Height: 55.7 inches
Curb weight: 3102 lbs. (with six-speed automatic)
Engine: 2.5-liter, four-cylinder
Horsepower: 180 @ 6000 rpm
Torque: 173 lb. ft. @ 4100 rpm
EPA estimated mpg city/highway: 23/31
Base price: $18,275
As-tested price: $19,275
Also consider: (a comparative vehicle) Honda Civic, Kia Forte Koop, Hyundai Elantra