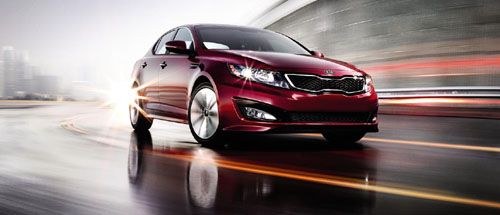 Kia Optima Turbo Delivers an Emotional Component to Rational Midsize Segment
But after some time behind the wheel, I have to commend Kia for its strategy (which also includes comparisons to other midsize models). The Kia Optima Turbo seems to be a much better car than the Hyundai Sonata Turbo, which until I drove the Optima Turbo, was my hands-down, favorite midsize sedan currently offered.
Kia did a gutsy thing with the Optima Turbo. They invited the gathered media to drive it on the Palm Beach International Raceway. No manufacturer is going to let loose a bunch of automotive journalists on a racetrack unless they are supremely confident in the car's abilities.
During the morning briefing before the journalists headed out to drive the Optima, I asked the Kia executives the difference between the Sonata and Optima turbos. Michael Sprague, vice president of marketing and communications, conceded both are mostly similar but each was tuned to their target markets. The Optima Turbo, he said, reflects Kia's position as sporty and more fun to drive and more dynamic.
Outside of brake fade (and that is to be expected because the power-assisted four-wheel disc brakes are made for street use), the Optima Turbo met the race track challenge. The 274-horsepower, 2.0-liter GDI turbocharged engine easily propelled me to 120 mph on the straightaway. (Frankly, I could have probably pushed a little more out of it if I had more confidence in my abilities and the heated brakes.) Noticeably absent are turbo lag and torque steer, which is when the steering wheel jumps to the right under hard acceleration.
The Optima Turbo did a great job eating up the twisting curves (both left and right) of the track. It aimed where pointed on its 18-inch black machined finish alloy wheels and the electronic stability control did an effective job of keeping the front end pointed where it should be. A Kia executive in front of me switched his off and found himself pointing the wrong way when approaching a curve too aggressively.
On the road, the Optima Turbo delivers a pleasant ride with little road noise intruding into the passenger cabin. Along open stretches of Florida highway, at slightly irresponsible speeds, it was impressive how quiet the cabin remained. There's no sense of how fast the Optima Turbo is traveling without a glance at the speedometer. No official testing was done but my best guesstimate would be a 0-60 time of about six seconds.
The Optima Turbo is really set up as a driver's car. All of the controls are intuitive. Normally, a 160-mph speedometer would be considered ambitious (or even outlandish) for a Kia but with a bit of tweaking, I'm sure that speed could be achieved on a race track. At first I didn't like the heated and cooled seats control being behind the shifter, but coincidentally I had a Kia Optima waiting for me upon my return from Miami and quickly got used to the controls being there.
The Optima Turbo also has some impressive standard technology, including an AM/FM/CD/MP3/Sat audio system with Sirius satellite radio capabilities (with three months complimentary service). Also standard are auxiliary and USB audio input jacks for connecting with MP3 players and Bluetooth wireless technology connectivity with steering wheel-mounted voice activation controls to enable hands-free operation for compatible mobile phones.
So, what's wrong with the Optima Turbo? As Kia executives freely admit, American consumers need to be educated about them. There is no V-6 option anymore for the Optima, which might surprise some consumers. However, with 274 horsepower and 269 lb. ft. of torque available at 1800 rpm, most drivers aren't going to notice a difference.
What's right about the Kia Optima Turbo, in addition to everything previously detailed, is its price. The well-equipped EX trim starts at $24,495 while the SX trim, which was run hard on the Palm Beach track, starts at $25,995. Of course, it's easy to add thousands to the bottom line with various packages and options like a panoramic sunroof that stretches the length of the passenger compartment (but only opens over the front seat).
As one Kia exec put it, the Optima Turbo delivers an emotional component to a segment that is very rational.
Wheelbase: 110.0 inches
Length: 190.7 inches
Width: 72.1 inches
Height: 57.3 inches
Curb weight: 3385 lbs.
Engine: 2.0 Turbo Gasoline Direct Injection in-line four
Horsepower: 274
Torque: 269
EPA estimated mpg city/highway: 22/34
Base price: $24,495
As-tested price: $28,645
Also consider: (a comparative vehicle) Hyundai Sonata Turbo, Ford Fusion, Mazda6