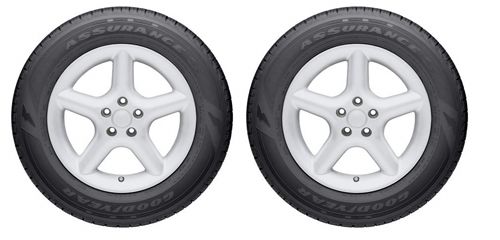 Fuel Saving Tire Gets Good Housekeeping Seal of Approval
Apparently, there are real benefits to be had by investing in the Assurance Fuel Max. According to Goodyear, it features a proprietary fuel-saving tread compound that helps reduce energy loss as the tire rolls, so less gas is required to keep the tire rolling. The 4 percent improvement in highway fuel economy delivered by the Fuel Max tires means, in essence, drivers can save up to 2,600 miles worth of gas over the life of a set of 4 tires.
And now for the explanation of how Goodyear arrived at that figure: "Up to 2,600 miles based on a 4 percent fuel economy improvement, on 65,000 Mile Tread Life Limited Warranty, as compared to the standard Goodyear Assurance tire tested on P195/65R15 size – 2008 Honda Civic. Actual results may vary based on when tires are replaced, driving and road conditions, and proper tire maintenance."
Goodyear Assurance Fuel Max tires have been selected as original equipment fitments for recognized fuel-efficient vehicles, such as the 2011 Chevrolet Volt, 2011 Chevrolet Cruze Eco, 2010 Ford Fusion S, and 2010 Toyota Prius.
As a replacement tire, the Goodyear Assurance Fuel Max is available to consumers now, and offers all-season traction with a full range of 32 sizes, fitting more than 80 percent of the passenger tire segment. Additionally, Assurance Fuel Max is a tire with the same fuel-saving benefits, available in 21 sizes for SUVs and crossover vehicles. Prices start at $75 each at Sears.