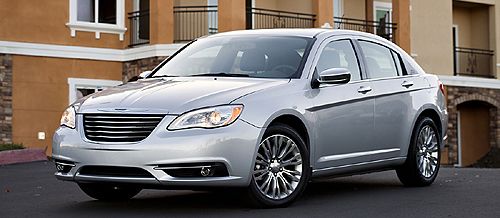 First Drive Review of 2011 Chrysler 200
The Chrysler 200 is a much-needed solution to the problem that was the Chrysler Sebring, a spectacularly awful car. The Sebring was one of the Top 10 automotive turkeys of the decade.
As the name suggests, this can be described as the younger sibling to the immensely popular Chrysler 300. It also ties in well to the upcoming Fiat 500 from Chrysler's parent company. Numbers make for simple names.
Virtually every system in the sedan is new or upgraded for 2011, giving the Chrysler 200 its own identity and space in the highly competitive mid-size sedan segment. It was a pleasant driving vehicle on roads from Napa to halfway to San Francisco that absolutely demonstrated this car has nothing to do with the Sebring.
A lot of that has to do with the quiet cabin. Noise, vibration and harshness (NVH) were reduced and 45 new sound deadening treatments were added, including an acoustic glass windshield, laminated side glass, new sound absorption materials throughout the vehicle and a new three-point engine mount system for the 2.4-liter World Gas Engine, for improved sound and isolation.
Almost every part of the suspension has been retuned or redesigned for 2011, including 26 of 30 suspension bushings. The suspension geometry was completely re-engineered. The track is an inch wider, tire width has been increased from 215 to 225 mm and the Chrysler 200 has been lowered about two inches in the front and one inch in the rear for a lower, wider, more substantial stance. The 200 has a little attitude to it when viewed from the side – never a bad thing in the midsize sedan segment.
The 2011 Chrysler 200 is offered with the 2.4-liter World Gas Engine, which has been recalibrated and is now available mated to a new six-speed transmission. It produces 173 horsepower and 166 lb.-ft. of torque. The available new 3.6-liter Pentastar V-6 engine provides best-in-class V-6 horsepower and strong fuel economy with 283 horsepower and 260 lb.-ft. of torque, and is mated to the 62TE six-speed transmission.
The 2.4-liter World Gas Engine also is available mated to the four-speed automatic transmission but that's really more of a rental car powertrain than one you would want to live with on a daily basis.
One concern about the Chrysler 200 is it can get pricey pretty quick. The base model, the LX, starts at $19,995, including the $750 destination charge but the top of the line model, the Limited, costs $24,495, including destination. Add some features like media center with the 6.5-inch screen and the Garmin navigation system and you're looking at a car pricing out at more than $28,000. That's a lot of coin for a midsize sedan that might not be ready to play in that atmosphere.