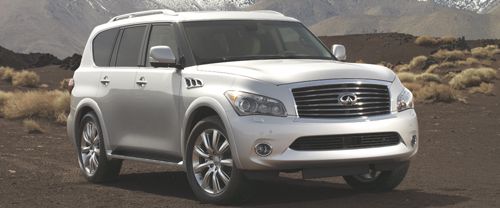 2011 Infiniti QX56 Wraps in Comfort and Luxury But Hurts at the Pump
OK, so the Infiniti QX56 didn't get the fuel economy of the H2, which was reported to be about 11.2 mpg by Edmunds.com, but in a week of mostly highway driving, I averaged only 15.2 mpg with it. The reviewer before me, who is extremely light footed because of his spendthrift nature, managed to squeeze out 15.6 mpg. The EPA rates it at 14 mpg city and 20 mpg highway (really?) for a combined fuel economy of 16 mpg.
Again, my numbers would appear to be on track, except I did probably 90 percent of my driving on the highway in a weekend jaunt from Hartford, Conn., to Philadelphia, Penn., (about 250 miles each way).
The good news is this second-generation QX56 gets 14 percent better fuel economy than its predecessor in combined figures. Infiniti says that's due to the efficiency of Direct Injection Gasoline and a 7-speed automatic transmission that are part of the 5.6-liter V8 powertrain that produces 400 horsepower and 413 lb.-ft. of torque (and a whopping 8500-lb. towing capacity).
Then again, folks willing to invest $60,300 in the base QX56 with four-wheel drive probably aren't concerned about fuel economy and the cost of gas. They're looking for a luxury people mover jam packed with technology and the QX56 more than delivers what they want. It truly is a technological wonder.
Leading that technology parade is the around view monitor that comes with a front and rear sonar system. The National Highway Transportation and Safety Administration is going to require all vehicles have rear-view cameras by 2014. They should go a step further and mandate systems like the around view monitor system. It provides the driver with a virtual 360° view of their vehicle to aid in parking situations. It also includes a 180° rear-view camera mode. Without it, parking the QX56 would be haphazard at best.
Yet it's much more than a parking tool. It also came in handy while driving down a one-way street in Philadelphia. Despite prominent no parking signs on the narrow thoroughfare, a thoughtless SUV owner had parked opposite a tree. Slowing down to 5 mph, I hit the camera switch, sucked in my gut, and managed to squeeze through the spot knowing that both sides had the requisite clearance. The around view monitor is an amazing piece of technology.
The QX includes both Infiniti's Lane Departure Warning (LDW) and Lane Departure Prevention (LDP) systems. The LDW and LDP systems use a small camera installed behind the windshield to detect lane markers in front of the vehicle, calculate its position relative to those lane markers and help warn the driver of a potential unintended lane departure with a visual indicator and audible buzzer. If the driver does not return the vehicle back toward the center of the travel lane, the LDP system assists the driver with a gentle application of the brakes on the opposite side of the drift. (The system made me realize how much I drift without realizing it.)
A new Blind Spot Warning (BSW) system is also available. It illuminates an indicator light if another vehicle is detected in the blind spot area. If the driver then activates the turn signal, the indicator flashes and an audible warning sounds.
For 2011, Infiniti has managed to swell the width (by 1.1 inches) and length (1.4-inches longer) of the QX56 while making it a little bit shorter (but even at 6'1" I still needed the running board to get in and out). While overall vehicle height has been reduced by 2.0 inches for the 2WD model and 2.9 inches on the 4WD model, interior headroom measurements are virtually unchanged from the previous generation primarily due to the implementation of a more efficient interior overhead trim design.
A front underbody spoiler, functional rear liftgate spoiler and redesigned side mirrors help provide aerodynamics of 0.36 Cd and zero lift. The QX's strong presence is accented by the powerful wheel and tire combinations – standard 20-inch and available 22-inch.
Are you in the market for spacious transportation that seats seven comfortably while surrounding you with the latest in technology? Do you not mind lackluster fuel economy that will make you a welcome sight at the gas station on your twice-weekly visits? Then the 2011 Infiniti QX56 might just be the vehicle for you.
VITAL STATISTICS
Wheelbase: 121.1 inches
Length: 208.3 inches
Width: 79.9 inches
Height: 75.8 inches
Curb weight: 5850 lbs.
Engine: 5.6-liter V8
Horsepower: 400 @ 5800 rpm
Torque: 413 lb. ft. @ 4000 rpm
EPA estimated mpg city/highway: 16/20
Base price: $60,300
As-tested price: $72,940
Also consider: (a comparative vehicle) Range Rover, Audi Q7, Toyota Land Cruiser